Pagina 1 di 9 Films: 400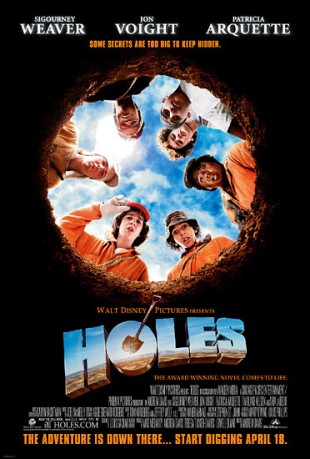 Holes
"But if you forget to come back for Madame Zeroni, you and your family will be cursed for always and eternity." Those were the exact words spoken to young Elya Yelnats the day he forgot to repay Madame Zeroni. From then on his family was cursed with bad luck. One hundred years later Stanley Yelnats IV is accused of stealing a pair of cleats from a major league baseball player and sent to Camp Green Lake (a dry lake bed in the middle of the desert). It never rains at Camp Green Lake, it hasn't for one hundred years. The secretive and mysterious Warden has each inmate spend every day digging one hole to "build character." But when an artifact from the famous "Kissin' Kate" Barlow is found in a hole, the Warden forces the boys to work double time leading Stanley to deduce they're digging because the Warden is looking for something. But what? And how is the mystery of Camp Green Lake connected to Stanley's family curse?
Scheda
Trailer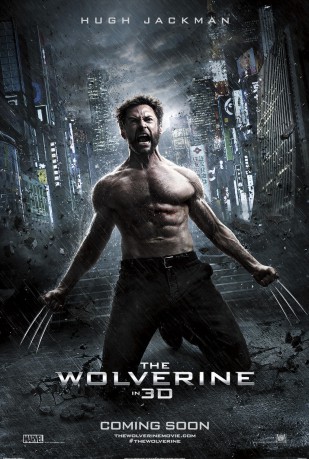 The Wolverine
In modern day Japan, Wolverine is out of his depth in an unknown world as he faces his ultimate nemesis in a life-or-death battle that will leave him forever changed. Vulnerable for the first time and pushed to his physical and emotional limits, he confronts not only lethal samurai steel but also his inner struggle against his own near-immortality, emerging more powerful than we have ever seen him before.
Scheda
Trailer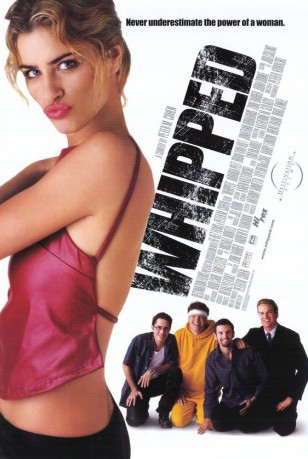 Whipped
In New York, Brad, Zeke and Jonathan are wolves and best friends. They meet each other once a week together with their married friend Eric to tell theirs dates, affairs and sex experiences along the week. Brad and Zeke are greater lovers and Jonathan loves to self-masturbate. One day, each one of them discloses to the others that has met the perfect girlfriend. Indeed, they discover that their girlfriends is the same woman called Mia. Their dispute for Mia will affect their friendship.
Scheda
Trailer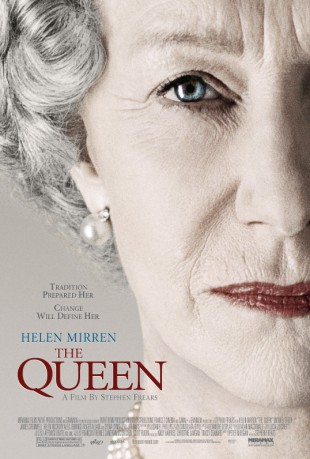 The Queen
Diana the 'People's Princess' has died in a car accident in Paris. The Queen and her family decide that for the best, they should remain hidden behind the closed doors of Balmoral Castle. The heartbroken public do not understand and request that the Queen comforts her people. This also puts pressure on newly elected Tony Blair, who constantly tries to convince the monarchy to address the public.
Scheda
Trailer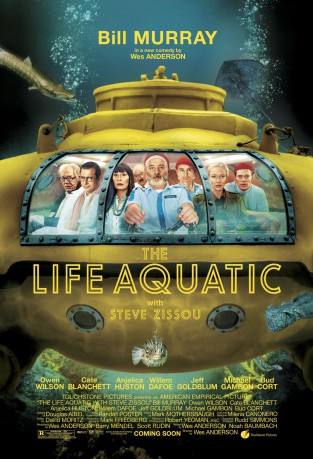 The Life Aquatic with Steve Zissou
When his partner is killed by the mysterious and possibly nonexistent Jaguar Shark, Steve Zissou and his Team Zissou crew set off for an expedition to hunt down the creature. Along with his estranged wife, a beautiful journalist and a co-pilot who could possibly be Zissou's son, the crew set off for one wild expedition.
Scheda
Trailer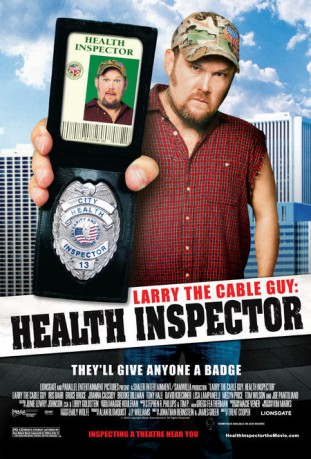 Larry the Cable Guy: Health Inspector
Irreverent as ever, Larry The Cable Guy plays a big city health inspector who's happy with his usual beat of greasy spoon diners and low-rent ethnic restaurants. His easygoing life is turned upside-down when he's saddled with a straight-arrow rookie partner (Iris Bahr) and assigned the biggest case of his career: investigating an outbreak of mysterious food poisonings at the city's swankiest restaurants. Infuriating restaurateurs with his bad manners, Larry still manages to charm a sweet, shy waitress (Megyn Price) into a budding romance. But when his unorthodox methods cost him his job, Larry has to go undercover to bring the conspirators to justice and 'Git-R-Done!'
Scheda
Trailer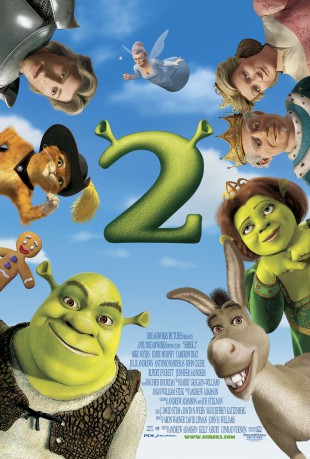 Shrek 2
Shrek has rescued Princess Fiona, got married, and now is time to meet the parents. Shrek, Fiona, and Donkey set off to Far, Far Away to meet Fiona's mother and father. But not everyone is happy. Shrek and the King find it hard to get along, and there's tension in the marriage. It's not just the family who are unhappy. Prince Charming returns from a failed attempt at rescuing Fiona, and works alongside his mother, the Fairy Godmother, to try and find a way to get Shrek away from Fiona.
Scheda
Trailer
He Got Game
Tells the story of Jesus Shuttlesworth, the most sought after high school basketball prospect in the nation. Jesus and his dream to make it to the big ranks in professional basketball are overshadowed by his father, Jake, who is spending his life in prison for killing Jesus' mother.
Scheda
Trailer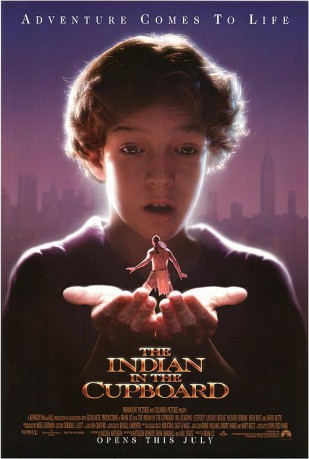 The Indian in the Cupboard
Omri (Hal Scardino), a young boy growing up in Brooklyn, receives an odd variety of presents for his birthday: a wooden cabinet from his older brother, a set of antique keys from his mother Jane (Linsday Crouse), and a tiny plastic model of an Indian from his best friend Patrick (Rishi Bhat). Putting them all together, Omri locks the Indian inside the cabinet, only to be awoken by a strange sound in the middle of the night. Omri opens the cabinet to discover that the tiny Indian has come to life; it seems that he's called Little Bear (Litefoot), and he claims to have learned English from settlers in 1761. Omri hides this remarkable discovery from his mother but shares it with Patrick; as an experiment, Patrick locks a toy cowboy into the cupboard, and soon Little Bear has a companion, Boone (David Keith), though predictably, the cowboy and the Indian don't get along well at first. Omri comes to the realizations that his living and breathing playthings are also people with lives of ...
Scheda
Trailer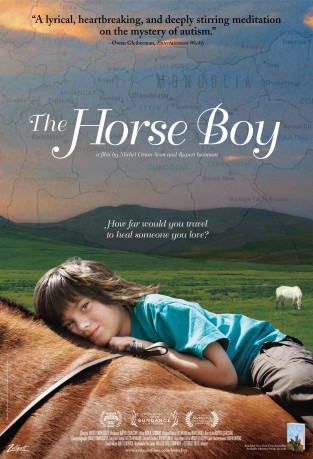 The Horse Boy
OVER THE HILLS AND FAR AWAY chronicles the journey of the Isaacson family as they travel through Mongolia in search of a mysterious shaman who they believe can heal their autistic son. This film delves into the strange world of autism, horses, shamanism, and Mongolia while telling the story of a family that will go to the end of the earth to find a way into their son's life.
Scheda
Trailer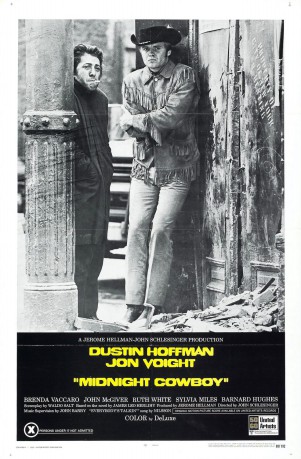 Midnight Cowboy
Texas greenhorn Joe Buck arrives in New York City for the first time. Preening himself as a real "hustler", he finds that he is the one getting "hustled" until he teams up with down-and-out but resilient outcast Ratso Rizzo. The initial "country cousin meets city cousin" relationship deepens. In their efforts to bilk a hostile world rebuffing them at every turn, this unlikely pair progress from partners in shady business to comrades. Each has found his first real friend.
Scheda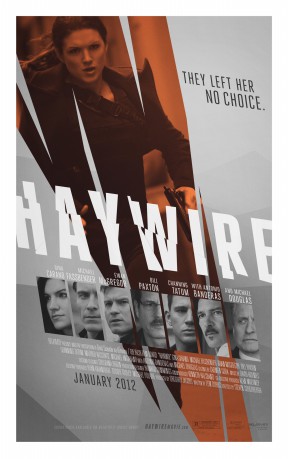 Haywire
Freelance covert operative Mallory Kane is hired out by her handler to various global entities to perform jobs which governments can't authorize and heads of state would rather not know about. After a mission to rescue a hostage in Barcelona, Mallory is quickly dispatched on another mission to Dublin. When the operation goes awry and Mallory finds she has been double crossed, she needs to use all of her skills, tricks and abilities to escape an international manhunt, make it back to the United States, protect her family, and exact revenge on those that have betrayed her.
Scheda
Trailer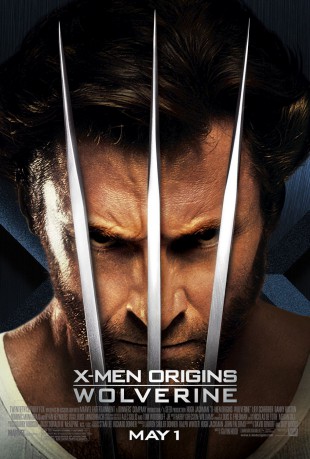 X-Men Origins: Wolverine
Two mutant brothers, Logan and Victor, born two hundred years ago, suffer childhood trauma and have only each other to depend on. Basically, they're fighters and killers, living from war to war throughout U.S. history. In modern times, a U.S. Colonel, Stryker, recruits them and other mutants as commandos. Logan quits and becomes a logger, falling in love with a local teacher. When Logan refuses to rejoin Stryker's crew, the Colonel sends the murderous Victor. Logan now wants revenge.
Scheda
Trailer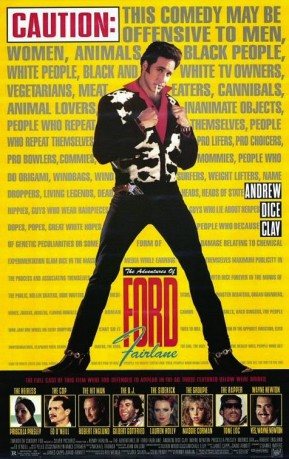 The Adventures of Ford Fairlane
Ford "Mr. Rock n' Roll Detective" Fairlane is experiencing problems, and it's not with the opposite sex. One of them is that all the rock stars pay him with drum sticks, koala bears, food processors and bicycle shorts. Another one of them is that all his employers that want him to find a girl named Zuzu Petals get killed. Why didn't he become a fisherman's detective instead? A must-see for Andrew Dice Clay fans.
Scheda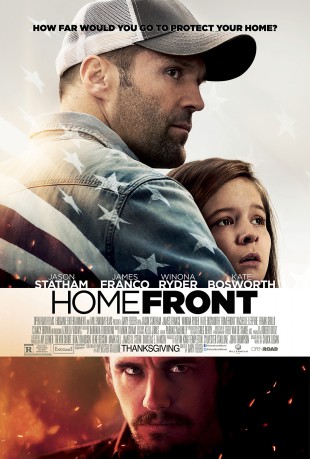 Homefront
Phil Broker is a former DEA agent who has gone through a crisis after his actions against a biker gang went horribly wrong ,and it cost the life of his boss's son. He is recently widowed and is left with a 9 year old daughter, Maddy. He decides to quit the turbulent and demanding life of the DEA for Maddy's sake and retires to a small town. His daughter fights off a boy who is bullying her at school, and this sets in motion a round of events that end in his direct confrontation with the local Meth drug lord. His past with the biker gang also enters the arena, making matters more complex. But he has a mission in his mind to protect his daughter, and he is ready to pay any cost that it demands.
Scheda
Trailer
The Last Big Thing
From a bland tract house on the outskirts of Los Angeles, Simon Geist (with occasional help from his platonic girlfriend Darla) wages war against all of modern American popular culture. Geist starts up a magazine called "The Next Big Thing", which he uses to confront and insult upcoming actors, comics, models and rock bands. As Geist's mysterious Underground Agenda escalates, will he become the "last big thing", or be co-opted by the very forces he is railing against?
Scheda
Trailer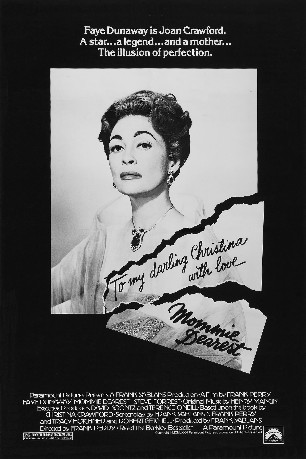 Mommie Dearest
The relationship between Christina Crawford and her adoptive mother Joan Crawford is presented from Christina's view. Unable to bear children, Joan, in 1940, was denied children through regular adoption agencies due to her twice divorced status and being a single working person. Her lover at the time, Metro-Goldwyn-Mayer lawyer Greg Savitt, was able to go through a brokerage to adopt a baby girl, who would be Christina, the first of Joan's four adoptive children. Joan believes that her own difficult upbringing has made her a stronger person, and decides that, while providing the comforts that a successful Hollywood actress can afford, she will not coddle Christina or her other children, she treating Christina more as a competitor than a daughter. Joan's treatment of Christina is often passive-aggressive, fueled both by the highs and lows of her career, the narcissism that goes along with being an actress, and alcohol abuse especially during the low times. However, Joan sees much of ...
Scheda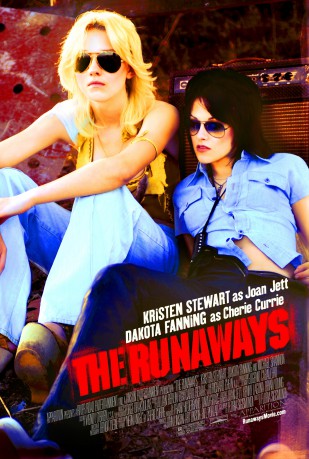 The Runaways
In 1975, San Fernando Valley teen Joan Larkin reinvents herself as Joan Jett, a guitarist who wants to form an all-girl punk band. She pitches the idea to a sleazy manager, Kim Fowley, who pairs her with a drummer and then searches for a face: he finds Cherie Currie, at age 15, the perfect jailbait image for his purpose; by luck, she can sing. Two others round out the band, The Runaways. Fowley books a tour, signs them to Mercury Records, and packs them off to crowds in Japan. Seeds of conflict sprout early: Fowley puts Cherie front and center in the publicity, she's soon strung out on drugs and vodka, and jealousies arise. Without adult supervision, where can Joan and Cherie end up?
Scheda
Trailer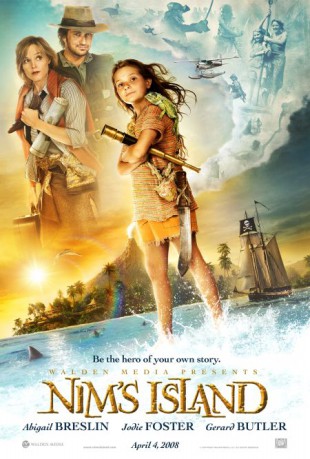 Nim's Island
Nim Rusoe is a girl who joins her father, a scientist, when he does research on marine life on an island. It's just the two of them but she spends her time making friends with all the animals she encounters, chatting on the computer and reading the adventure books of Alex Rover. When her father goes to do some research but when a storm strikes the island he doesn't come back, she gets worried and frightened. She then e-mails Alex Rover hoping that he will come but what she doesn't know is that Alex Rover is a woman who is agoraphobic and germaphobic. But her creation comes to life and eggs her to go. Unfortunately she has never gone anywhere before and is denied her necessities like her sanitary gel by the customs officer at the airport. In the meantime, Nim tries to be strong while waiting for Alex to arrive.
Scheda
Trailer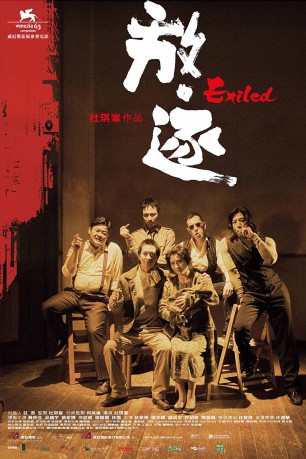 Exiled
The time is 1998. The setting is Macau. Every living soul jumps at every chance to make quick money before the Portuguese colony ushers in a new era under the Chinese rule. For the jaded hit men, they wonder where this journey will end. Against this backdrop come two hit men from Hong Kong sent to take out a renegade member trying to turn over a new leaf with his wife and newborn baby. They soon find themselves in the throes of a dilemma when two of their former associates also show up, intent on thwarting them at every cost.
Scheda
Trailer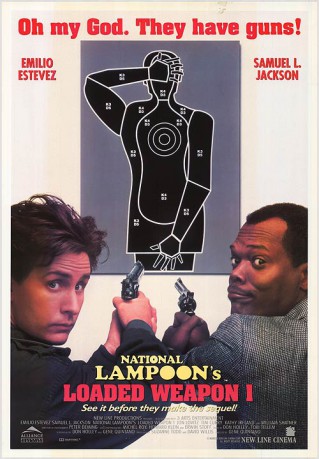 Loaded Weapon 1
A Los Angeles detective is murdered because she has microfilm with the recipe to make cocaine cookies. A "Lethal Weapon" style cop team tries to find and stop the fiends before they can dope the nation by distributing their wares via the "Wilderness Girls" cookie drive.
Scheda
Trailer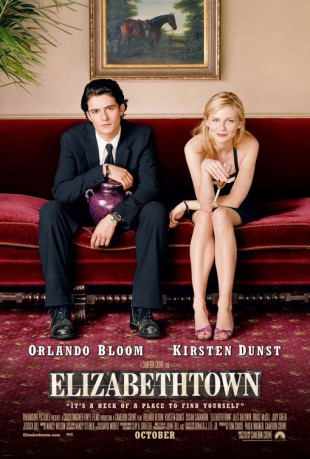 Elizabethtown
After causing a loss of almost one billion dollars in his company, the shoe designer Drew Baylor decides to commit suicide. However, in the exact moment of his act of despair, he receives a phone call from his sister telling him that his beloved father had just died in Elizabethtown, and he should bring him back since his mother had problem with the relatives of his father. He travels in an empty red eye flight and meets the attendant Claire Colburn, who changes his view and perspective of life.
Scheda
Trailer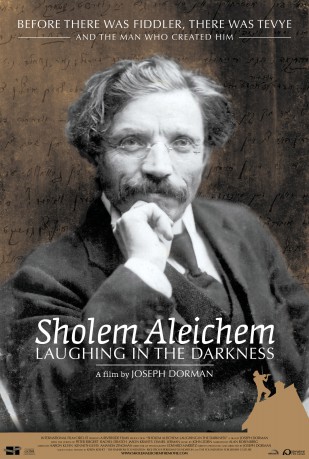 Sholem Aleichem: Laughing in the Darkness
A riveting portrait of the great writer whose stories became the basis of the Broadway musical Fiddler on the Roof. Sholem Aleichem: Laughing in the Darkness tells the tale of the rebellious genius who created an entirely new literature. Plumbing the depths of a Jewish world locked in crisis and on the cusp of profound change, he captured that world with brilliant humor. Sholem Aleichem was not just a witness to the creation of a new modern Jewish identity, but one of the very men who forged it.
Scheda
Trailer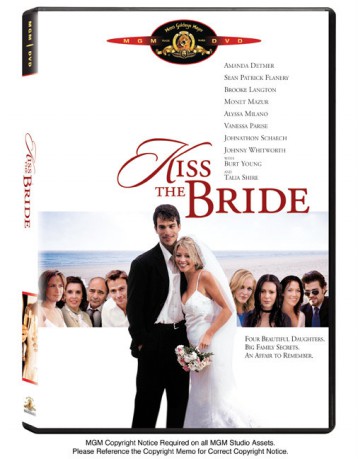 Kiss the Bride
In Rhode Island, in the Italian-American family Sposato, Danni is going to marry Geoffrey Brancato. Danni lives with her parents Santo and Irena and is the third and 'the good daughter' of her family. Her three sisters come for her wedding: the older Nikki, a successful TV starlet, who works in a TV show very similar to 'Baywatch'. Nikki brings her boy-friend and manager Marty Weinberg to be introduced to her family. Chrissy, who deals with investments in Wall Street; and the rebel younger Toni , who plays in a rock-and- roll band with her lesbian lover Amy Kayne. Together, they have meals in the restaurant of Tom Terranova, the former and first love of Nikki. Many discussions of the Sposato family show wounds not healed, when the characters expose their real feelings.
Scheda
Trailer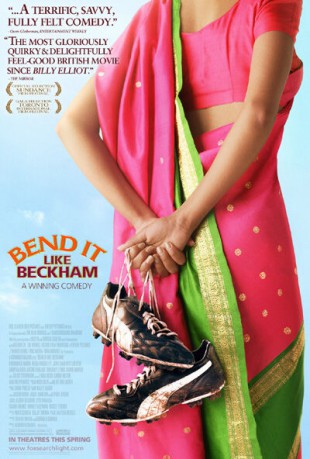 Bend It Like Beckham
A comedy about bending the rules to reach your goal, Bend It Like Beckham explores the world of women's football, from kick-abouts in the park to freekicks in the Final. Set in Hounslow, West London and Hamburg, the film follows two 18 year olds with their hearts set on a future in professional soccer. Heart-stopping talent doesn't seem to be enough when your parents want you to hang up your football boots, find a nice boyfriend and learn to cook the perfect chapatti.
Scheda
Trailer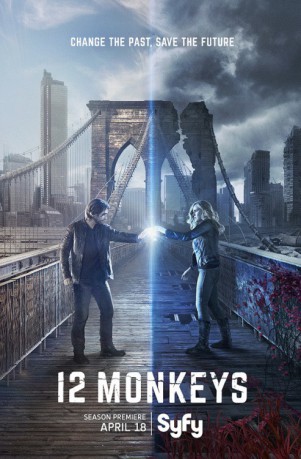 12 Monkeys - Stagione 1
In the year 2043, scavenger James Cole (Aaron Stanford) has been recruited by a team of "Project Splinter" scientists led by physicist Katarina Jones (Barbara Sukowa), to travel back in time to the year 2015, and stop the release of a deadly virus by the enigmatic organization known as the "Army of the 12 Monkeys". In Cole's original time-line, the virus caused a plague that resulted in the death of seven billion humans in the year 2017, and its on-going mutations will mean the eventual end of the human race. In the 2015 time-line, Cole will meet and enlist the help of brilliant virologist Dr. Cassandra "Cassie" Railly (Amanda Schull); the two are brought together because a recording mentioning Cole, that Cassie made after the viral outbreak, is uncovered by Jones in the future time-line, prompting her to select Cole for the mission. Cole will also encounter a seemingly unstable math genius named Jennifer Goines (Emily Hampshire), whose father Cole has been tasked to kill, Cassie's ...
Scheda
Trailer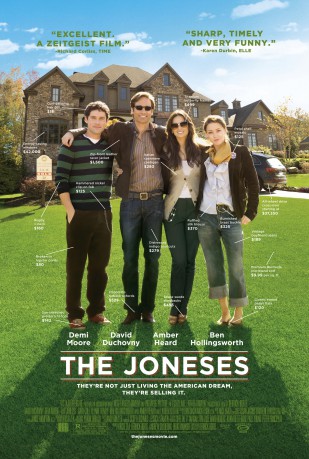 The Joneses
"The Joneses", a social commentary on our consumerist society. Perfect couple Steve and Kate Jones, and their gorgeous teen-aged children Jenn and Mick, are the envy of their posh, suburban neighborhood filled with McMansions and all the trappings of the upper middle class. Kate is the ultimate trend setter - beautiful, sexy, dressed head-to-toe in designer labels. Steve is the admired successful businessman who has it all: a gorgeous wife, big house and an endless supply of high-tech toys. Jenn and Mick rule their new school as they embody all that is hip and trendy - cool clothes, fast cars and the latest gadgets. But as the neighbors try to keep up with the Joneses, none are prepared for the truth about this all- too perfect family.
Scheda
Trailer
Universal Soldier: The Return
Luc Devereaux, the only surviving member of the original Universal Soldier Team. He now works with Dylan Cotner, on a project to create and improve a new Universal Soldier. Their plan is for the Universal soldier or UNISOLS to be controlled by a computer they call SETH. When the government decides to terminate the project, which includes shutting down SETH. SETH, not wanting this to happen, takes steps to prevent this. He first kills Dylan. He then has himself transfered into a body. He then seeks out Luc Devereaux, who is the only person who knows the code that will stop his program from being deleted. So he sends out all the UNISOLS to get him. Luc must try and stay away until SETH program is deleted. But SETH has targeted his daughter as possible leverage.
Scheda
Trailer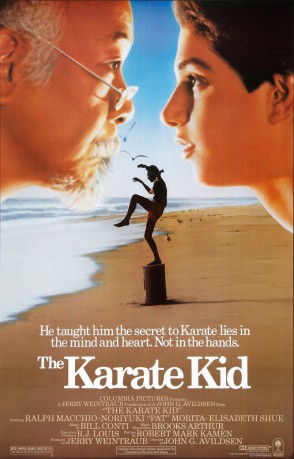 The Karate Kid
Daniel and his mother move from New Jersey to California. She has a wonderful new job, but Daniel quickly discovers that a dark haired Italian boy with a Jersey accent doesn't fit into the blond surfer crowd. Daniel manages to talk his way out of some fights, but he is finally cornered by several who belong to the same karate school. As Daniel is passing out from the beating he sees Miyagi, the elderly gardener leaps into the fray and save him by outfighting half a dozen teenagers. Miyagi and Daniel soon find out the real motivator behind the boys' violent attitude in the form of their karate teacher. Miyagi promises to teach Daniel karate and arranges a fight at the all-valley tournament some months off. When his training begins, Daniel doesn't understand what he is being shown. Miyagi seems more interested in having Daniel paint fences and wax cars than teaching him Karate.
Scheda
Trailer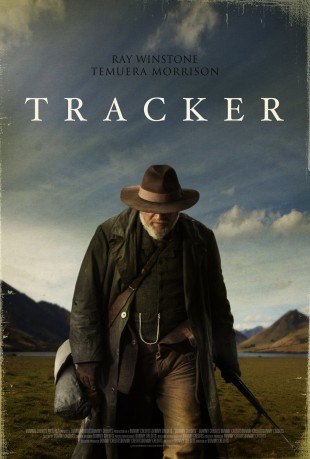 Tracker
An Afrikaner veteran of the Boer War has just immigrated to New Zealand and is hired to track a man accused of killing a soldier. While hunting through the countryside he captures his fugitive, only to learn that he's innocent of the crime. When faced with the life changing decision to turn him in or set him free only one man will walk away alive.
Scheda
Trailer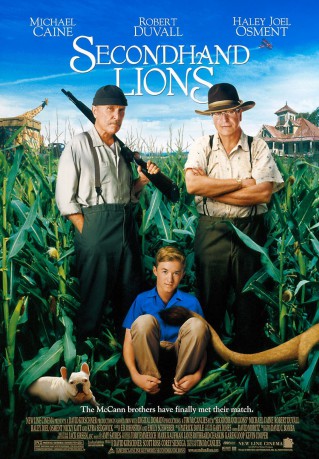 Secondhand Lions
A boy named Walter is dropped by his mother Mae at his great-uncles' house. Later,Walter will find out his great-uncles' big secret. And rumors say that Hub & Garth, Walter's great uncles, have stolen much gold & money. (some say they stole it from Al Capone) Did they really steal that money or not?
Scheda
Trailer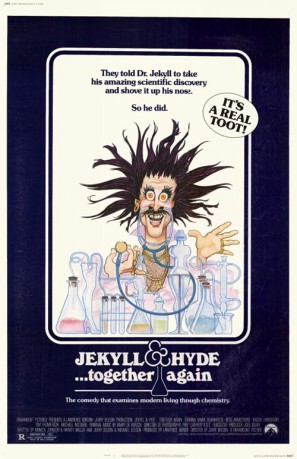 Jekyll and Hyde... Together Again
Dr Daniel Jekyll researching into drugs that would help mankind avoid surgery discovers a white powder that unleashes the animal in every man, and in his case turning him from a shy and timid doctor into a wild sex crazed party animal. To the delight and dismay of both his rich fiancée and stripper girlfriend.
Scheda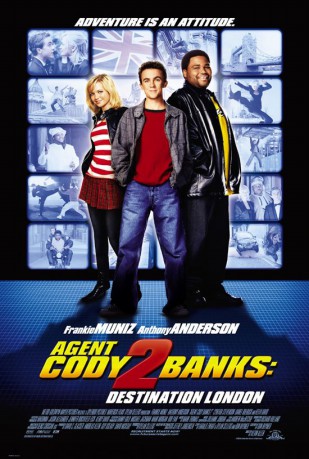 Agent Cody Banks 2: Destination London
One year later, agent Cody Banks is back for another awesome adventure but this time he must track down a former instructor who's gone rogue with a mind-control microchip. Banks masquerades as a musical prodigy to get close to a snobby, egocentric scientist in London who's the only person who can make the microchip work. Along the way Banks hooks up with a demoted agent and a cute-as-a-bug Scotland Yard operative. When Agent Cody Banks heads to England to catch an evil scientist who's stolen a mind-control device for his plot to rule the world and turning the world leaders into zombies!
Scheda
Trailer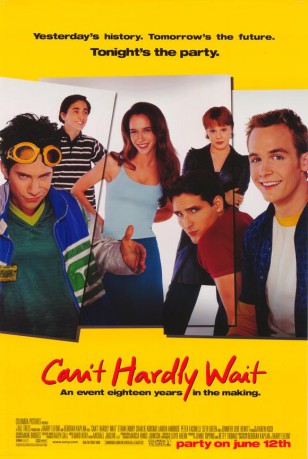 Can't Hardly Wait
It's high school graduation and, like all seniors, they want to party. So, 500 high school seniors look forward to a party while, in the meantime, a boy wants to get a girl he's loved for years who just broke up with her boyfriend, and one head-case who wants revenge on a lifelong bully. So, the party comes, things develop. People have sex, drink, and go along with most of the guidelines of a high school graduation party.
Scheda
Trailer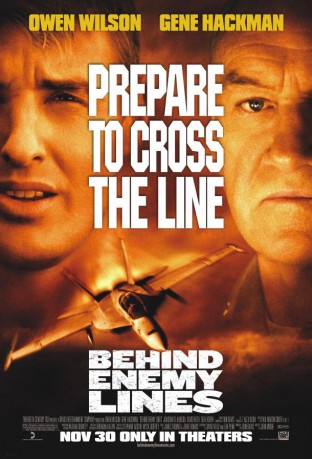 Behind Enemy Lines
Fighter navigator Chris Burnett wants out: he was looking for something more than the boring recon missions he's been flying. He finds himself flying the lone Christmas day mission over war-torn Bosnia. But when he talks pilot Stackhouse into flying slightly off-course to check out an interesting target, the two get shot down. Burnett is soon alone, trying to outrun a pursuing army, while commanding officer Reigert finds his rescue operation hamstrung by politics, forcing Burnett to run far out of his way.
Scheda
Trailer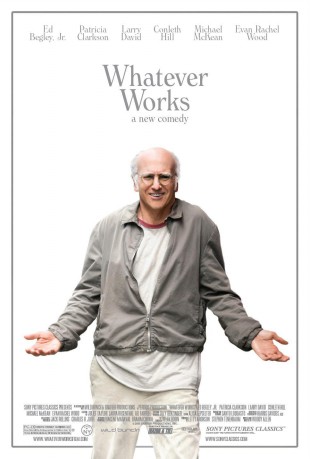 Whatever Works
Attempting to impress his ideologies on religion, relationships, and the randomness (and worthlessness) of existence, lifelong New York resident Boris Yellnikoff rants to anyone who will listen, including the audience. But when he begrudgingly allows naive Mississippi runaway Melodie St. Ann Celestine to live in his apartment, his reclusive rages give way to an unlikely friendship and Boris begins to mold the impressionable young girl's worldly views to match his own. When it comes to love, "whatever works" is his motto, but his already perplexed life complicates itself further when Melodie's parents eventually track her down.
Scheda
Trailer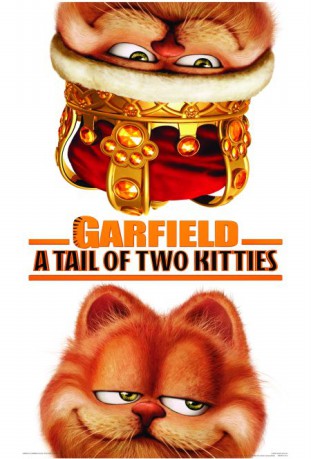 Garfield 2
Garfield is back and this time Garfield and his canine sidekick Odie follows their owner, Jon Arbuckle, to England, the U.K. may never recover, as Garfield is mistaken for a look-alike, regal cat who has inherited a castle. Garfield savors the royal treatment afforded by his loyal four-legged subjects, but his reign is in jeopardy! The evil nefarious stubborn Lord Dargis is determined to do away with Garfield, so he can turn the castle into a resort. Garfield's bigger, better, more perfect world is soon turned upside down in this tale of two kitties.
Scheda
Trailer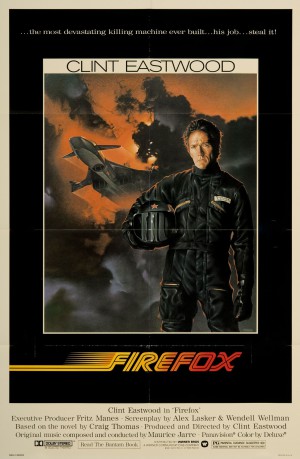 Firefox
The Soviets have developed a revolutionary new jet fighter, called "Firefox". Naturally, the British are worried that the jet will be used as a first-strike weapon, as rumours say that the jet is indetectable on radar. They send ex-Vietnam War pilot Mitchell Gant on a covert mission into the Soviet Union to steal Firefox.
Scheda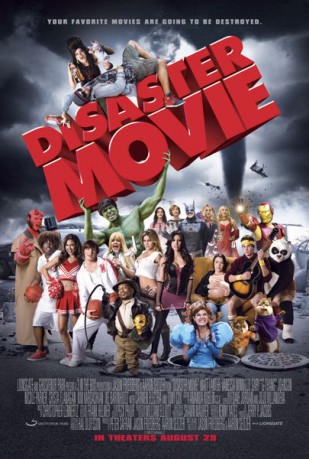 Secret in Their Eyes
2002: Ray Kasten (Chiwetel Ejiofor) and Jess Cobb (Julia Roberts) are two investigators in a private police unit led by the DA. When they receive an anonymous tip about a girl raped and killed, they rush to the scene. Ray realizes it is Jess' daughter and the team falls apart due to the grief. In 2015, Ray comes back to LA, and says that after 13 years, he has found a lead and convinces the DA to reopen the case. They find clues and leads unknown to them, and secrets from the past come to light as they start discovering the real, chilling truth. Meanwhile, Jess, dissatisfied with the law, decides to take matters into her own hands and track down the killer, no matter what lengths she has to go to.
Scheda
Trailer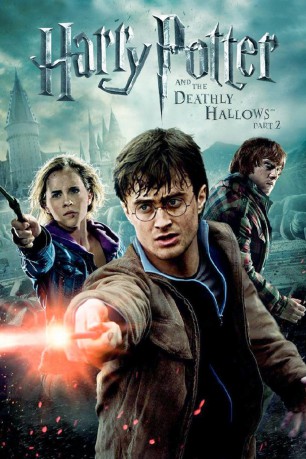 Harry Potter and the Deathly Hallows: Part II
Harry, Ron, and Hermione continue their quest of finding and destroying the Dark Lord's three remaining Horcruxes, the magical items responsible for his immortality. But as the mystical Deathly Hallows are uncovered, and Voldemort finds out about their mission, the biggest battle begins and life as they know it will never be the same again.
Scheda
Trailer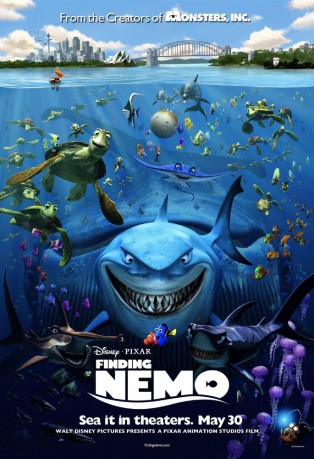 Finding Nemo
A clown fish named Marlin lives in the Great Barrier Reef and loses his son, Nemo, after he ventures into the open sea, despite his father's constant warnings about many of the ocean's dangers. Nemo is abducted by a boat and netted up and sent to a dentist's office in Sydney. While Marlin ventures off to try to retrieve Nemo, Marlin meets a fish named Dory, a blue tang suffering from short-term memory loss. The companions travel a great distance, encountering various dangerous sea creatures such as sharks, anglerfish and jellyfish, in order to rescue Nemo from the dentist's office, which is situated by Sydney Harbour. While the two are searching the ocean far and wide, Nemo and the other sea animals in the dentist's fish tank plot a way to return to the sea to live their lives free again.
Scheda
Trailer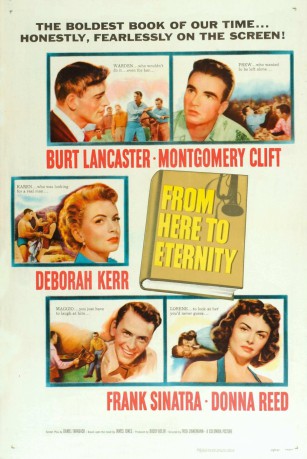 From Here to Eternity
It's 1941. Robert E. Lee Prewitt has requested Army transfer and has ended up at Schofield in Hawaii. His new captain, Dana Holmes, has heard of his boxing prowess and is keen to get him to represent the company. However, 'Prew' is adamant that he doesn't box anymore, so Captain Holmes gets his subordinates to make his life a living hell. Meanwhile Sergeant Warden starts seeing the captain's wife, who has a history of seeking external relief from a troubled marriage. Prew's friend Maggio has a few altercations with the sadistic stockade Sergeant 'Fatso' Judson, and Prew begins falling in love with social club employee Lorene. Unbeknownst to anyone, the Japanese bombing of Pearl Harbor looms in the distance.
Scheda
Trailer