Pagina 3 di 9 Films: 409
Sea of Love
Frank Keller is a New York detective investigating a case of a serial killer who finds the victims through the lonely hearts column in newspapers. Keller falls in love with Helen, the main suspect in the case.
Scheda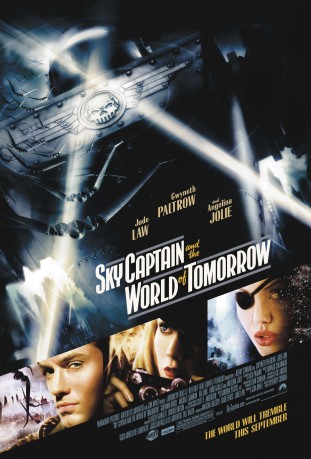 Sky Captain and the World of Tomorrow
In 1939, an intrepid reporter in New York City makes a connection between the story she's covering -- of famous scientists suddenly disappearing around the world, and a recent attack on the city by giant robots. Determined to find the solution to these happenings, she seeks the help of her ex-boyfriend, the captain of a mercenary legion of pilots. The two are investigating the case when the robots attack the city again, though in a stroke of luck, Sky Captain's right-hand man is able to locate their source. They then set off on an adventure in search of the evil mastermind behind these schemes, who is bent on creating a utopia and destroying the current world.
Scheda
Trailer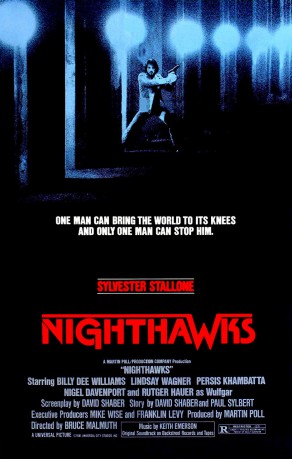 Nighthawks
Deke DaSilva and Matthew Fox are two New York City cops who get transferred to an elite anti-terrorism squad. About this same time, an infamous international terrorist shows up in New York City looking to cause some chaos. It's up to DaSilva and Fox to stop him, but will they be in time...?
Scheda
Trailer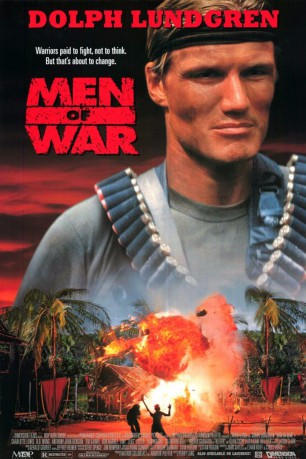 Men of War
Nick Gunar (Dolph Lundgren) is a burnt-out, jaded and hard-up former mercenary who is having a difficult time adjusting to civilian life. At the end of his rope, he is hired by the Nitro Mine Corporation to strong-arm the natives of a South China Sea island into giving up their rights to its valuable mineral resources. Nick loathes the thought of another mission, but this seemingly easy job will earn him enough money to get back with his estranged family. He recruits some of his former mercenary buddies to help him with the job. The island people refuse to give up their land and Nick decides to help them fight the greedy corporation that hired him. The island and its people bring Nick back to life. He finally finds something worth fighting for and a place to call home. As greed and treachery begin to unravel, Nick's band of mercenaries choose sides. Some are with him and others, still working for the corporation, will stop at nothing to destroy him.
Scheda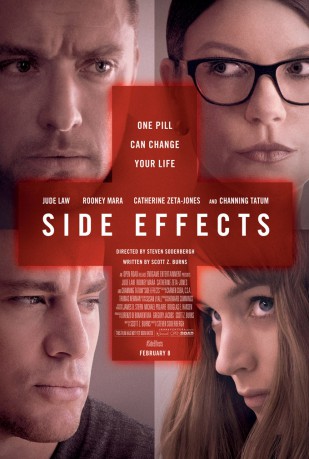 Side Effects
Emily Taylor, despite being reunited with her husband from prison, becomes severely depressed with emotional episodes and suicide attempts. Her psychiatrist, Jonathan Banks, after conferring with her previous doctor, eventually prescribes an experimental new medication called Ablixa. The plot thickens when the side effects of the drug lead to Emily killing her husband in a "sleepwalking" state. With Emily plea-bargained into mental hospital confinement and Dr. Banks' practice crumbling around him, the case seems closed. However, Dr. Banks cannot accept full responsibility and investigates to clear his name. What follows is a dark quest that threatens to tear what's left of his life apart even as he discovers the diabolical truth of this tragedy.
Scheda
Trailer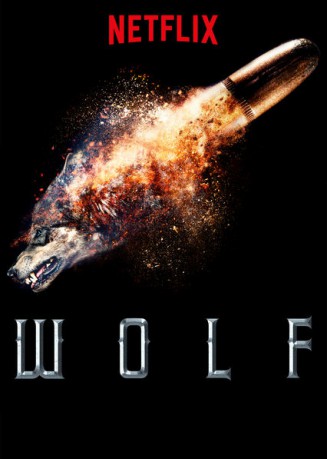 Wolf - Stagione 1
Turkey in the spring of 2014. A time when the enemies are growing on the border, the circle of danger inside is becoming narrower. The Republic of Turkey faces the greatest threats of recent history. BÖRÜ tells the story of heroic heroes who are touched by love. They are the last castle.
Scheda
Trailer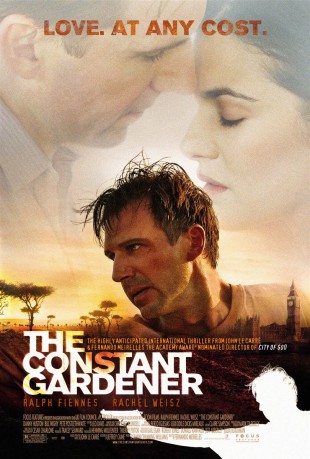 The Constant Gardener
In a remote area of Northern Kenya, activist Tessa Quayle is found brutally murdered. Tessa's companion, a doctor, appears to have fled the scene, and the evidence points to a crime of passion. Members of the British High Commission in Nairobi assume that Tessa's widower, their mild-mannered and unambitious colleague Justin Quayle, will leave the matter to them. They could not be more wrong. Haunted by remorse and jarred by rumors of his late wife's infidelities, Quayle surprises everyone by embarking on a personal odyssey that will take him across three continents. Using his privileged access to diplomatic secrets, he will risk his own life, stopping at nothing to uncover and expose the truth - a conspiracy more far-reaching and deadly than Quayle could ever have imagined.
Scheda
Trailer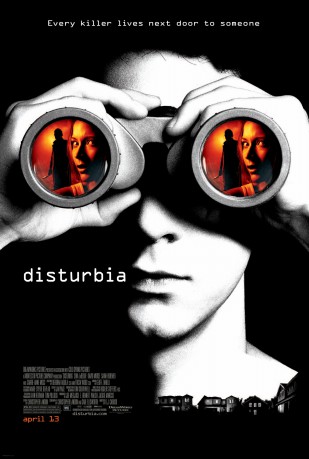 Disturbia
After his father is killed in a car accident, things unravel for Kale Brecht and he is placed under house-arrest for punching his Spanish teacher. Having nothing better to do, Kale occupies himself by spying on his neighbors. But one night, he witnesses what appears to be a murder going on in Mr. Turner's house. Kale becomes obsessed with uncovering the truth behind these murders but, after a few unsettling run-ins with Mr. Turner, it becomes a matter of life and death. And the ominous question: Who is watching whom?
Scheda
Trailer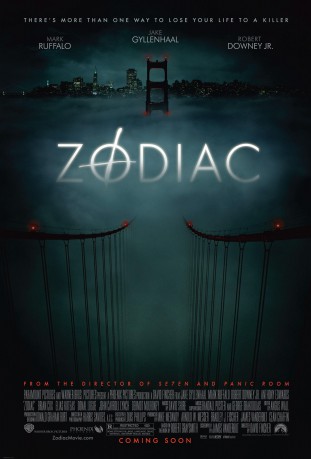 Zodiac
A serial killer in the San Francisco Bay Area taunts police with his letters and cryptic messages. We follow the investigators and reporters in this lightly fictionalized account of the true 1970's case as they search for the murderer, becoming obsessed with the case. Based on Robert Graysmith's book, the movie's focus is the lives and careers of the detectives and newspaper people.
Scheda
Trailer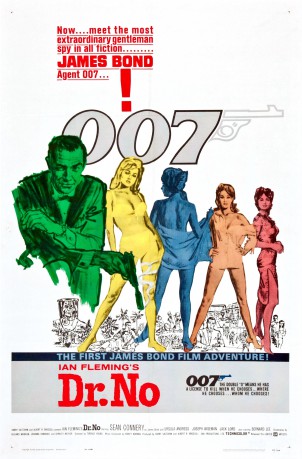 Dr. No
James Bond (007) is Britain's top agent and is on an exciting mission, to solve the mysterious murder of a fellow agent. The task sends him to Jamaica, where he joins forces with Quarrel and a loyal CIA agent, Felix Leiter. While dodging tarantulas, "fire breathing dragons" and a trio of assassins, known as the three blind mice. Bond meets up with the beautiful Honey Ryder and goes face to face with the evil Dr. No.
Scheda
Trailer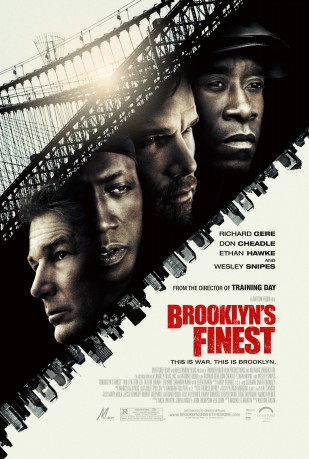 Brooklyn's Finest
In Brooklyn, amid drug deals, violence, casual racism, poverty, housing projects, and corrupt cops, we follow three officers: Tango, African-American, working undercover, believing he's earned a promotion to a desk job but told he has to set up the bust of an ex-con who saved his life; Sal, who'll commit murder to get cash; and, Eddie, the precinct's oldest beat cop, a week to go before retirement, assigned to mentor an earnest rookie. Can this end well for any of the three?
Scheda
Trailer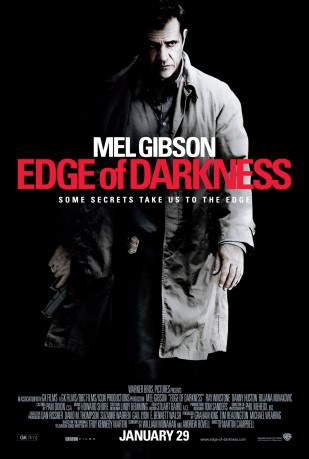 Edge of Darkness
Thomas Craven is a detective who has spent years working the streets of Boston. When his own daughter is killed outside his own home, Craven soon realizes that her death is only one piece of an intriguing puzzle filled with corruption and conspiracy, and it falls to him to discover who is behind the crime.
Scheda
Trailer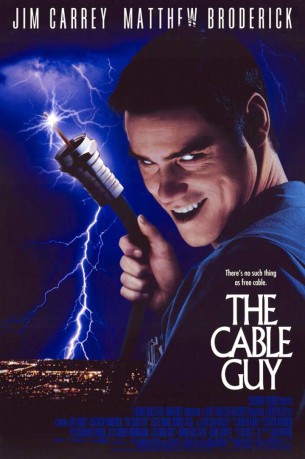 The Cable Guy
Steven Kovak has been kicked out of his apartment by his girlfriend. Steven has a new apartment, and decides to slip the cable guy (Chip) $50 for free cable. Steven then fakes an interest in Chip's line of work. However Chip takes this to heart trying to become Steven's best bud. When Steven no longer wants to be Chips friend the man who can do it all goes on an all out assault to ruin Steven's life. In the backdrop is the delicate sub-plot of the trial of a former kid star for murdering his brother.
Scheda
Trailer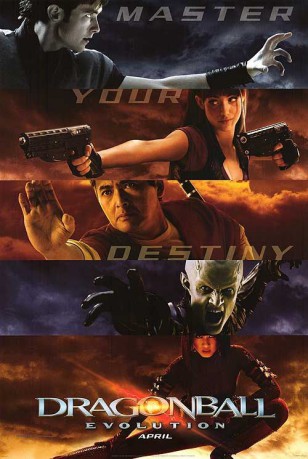 Dragonball: Evolution
The story begins with Goku, who seeks out upon his adoptive grandfather Grandpa Gohan's dying request to find the great Master Roshi and gather all seven Dragon Balls. Of which he has one, in order to prevent the evil Lord Piccolo from succeeding in his desire to use the Dragon Balls to take over the world. And Goku's quest is to obtain the mystical Dragonballs before Piccolo does.
Scheda
Trailer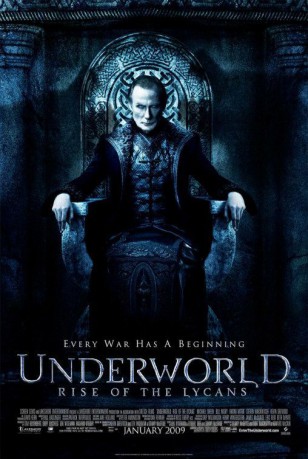 Underworld: Rise of the Lycans
The prequel story traces the origins of the centuries-old blood feud between the aristocratic vampires and their onetime slaves, the Lycans. In the Dark Ages, a young Lycan named Lucian emerges as a powerful leader who rallies the werewolves to rise up against Viktor, the cruel vampire king who has enslaved them. Lucian is joined by his secret lover, Sonja, in his battle against the Vampire army and his struggle for Lycan freedom.
Scheda
Trailer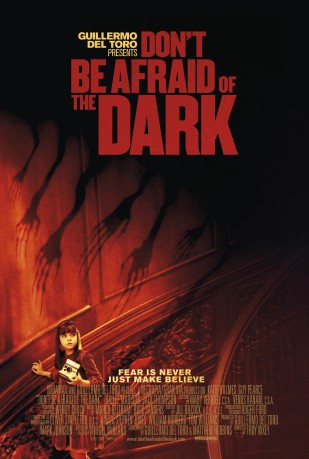 Don't Be Afraid of the Dark
A young girl is sent to live with her estranged father and his girlfriend at their new home. The father, Alex has plans to spruce up the home with the help of his interior decorator girlfriend, Kim. The previous owner of the home was a famous painter who mysteriously disappeared. Alex's daughter, Sally, soon discovers the cause of the painter's disappearance.
Scheda
Trailer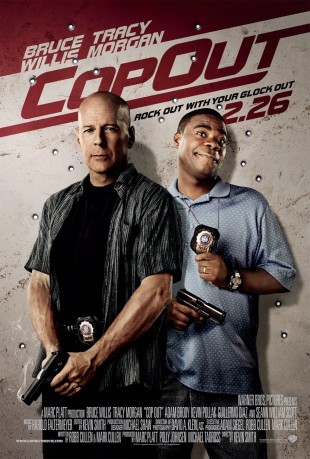 Cop Out
After a clumsy operation trying to capture a drug dealer, the N.Y.P.D Detectives Jimmy Monroe and Paul Hodges are suspended for one month by their Captain Romans. Jimmy decides to sell his rare baseball card to pay for his daughter's expensive wedding while his jealous partner believes that his wife is cheating on him with their next-door neighbor. When Jimmy sells his card to a memorabilia store, the place is burgled by two small-time thieves and the detective loses his card. They track down the thieves.
Scheda
Trailer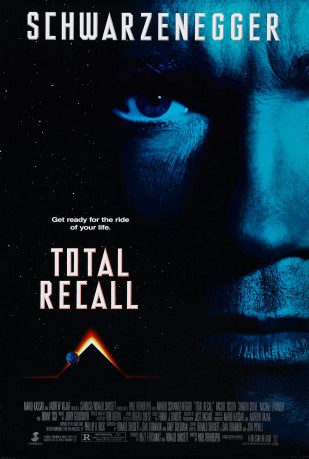 Total Recall
Douglas Quaid is haunted by a recurring dream about a journey to Mars. He hopes to find out more about this dream and buys a holiday at Rekall Inc. where they sell implanted memories. But something goes wrong with the memory implantation and he remembers being a secret agent fighting against the evil Mars administrator Cohaagen. Now the story really begins and it's a rollercoaster ride until the massive end of the movie.
Scheda
Trailer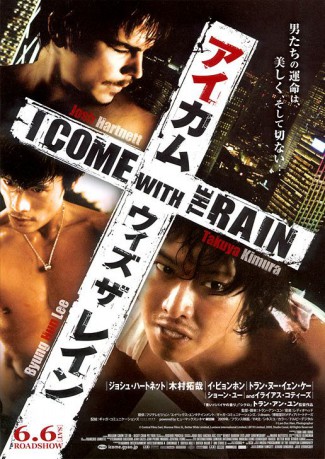 I Come with the Rain
Ex-Los Angeles cop turned private eye Kline travels to Hong Kong in search of Shitao, the missing son of a powerful pharmaceutical conglomerate boss. Enlisting Meng Zi a friend and a former colleague now working for the Hong Kong Police, Kline follows a faint trail left by the ethereal Shitao. The path leads to local gangster Su Dongpo and his beautiful, drug addicted girlfriend Lili. But Kline is distracted from his search, haunted by memories of the serial killer Hasford whose 'body of work' was the reason Kline quit the police force. Will Kline once again need to lose his mind to find his latest quarry?
Scheda
Trailer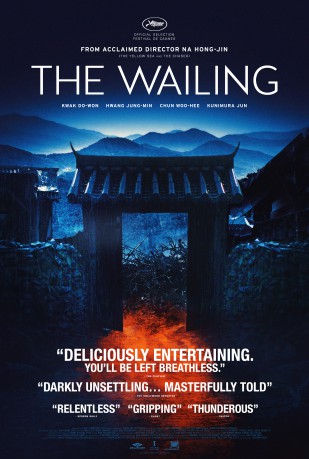 The Wailing
In the small village Goksung in South Korea, police officer Jong-Goo investigates bizarre murders caused by a mysterious disease. His partner relays gossip that a Japanese stranger, who lives in a secluded house in the mountains, would be an evil spirit responsible for the illness. Jong-Goo decides to visit the stranger along with his partner and a young priest who speaks Japanese. They find an altar with a goat head, pictures on the walls of the infected people that died, and an attacking guard dog that prevents their departure until the stranger arrives. Jong-Goo finds one shoe of his beloved daughter, Hyo-jin, in the house of the stranger, and soon she becomes sick. His mother-in-law summons the shaman Il-gwang to save her granddaughter while a mysterious woman tells Jong-Goo that the stranger is responsible. Who might be the demon that is bringing sickness to Goksung?
Scheda
Trailer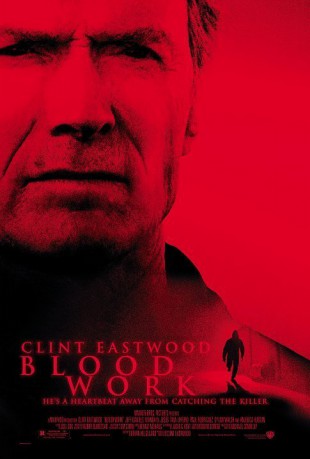 Blood Work
Retired FBI profiler Terry McCaleb (Eastwood), who has recently had a heart transplant, is hired by Graciela Rivers (De Jesus), to investigate the death of her sister, Gloria, who happens to have given McCaleb his heart. On the case, he soon deduces that the killer, who staged the murder to look like a random robbery, may actually be a serial killer Terry was trailing for years in the FBI. Can the elderly and feeble McCaleb, who had intended to spend his retirement living on his boat in the Los Angeles harbor, and who can't drive, and has to nap regularly, muster up the endurance to find the killer?
Scheda
Trailer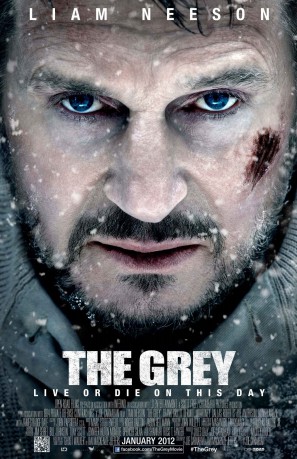 The Grey
In Alaska, a team of oil workers board a flight home; however, they cross a storm and the airplane crashes. Only seven workers survive in the wilderness and John Ottway, who is a huntsman that kills wolves to protect the workers, assumes leadership of the group. Shortly after they learn that they are surrounded by a pack of wolves and Ottway advises that they should seek protection in the woods. But while they walk through the heavy snow, they are chased and attacked by the carnivorous mammals.
Scheda
Trailer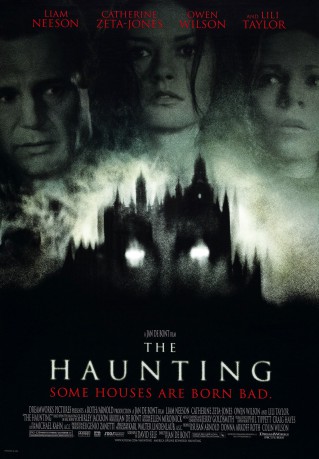 The Haunting
A remake of the classic 1963 movie "The Haunting" about a team of paranormal experts who look into strange occurrences in an ill-fated house. Through the course of the night some will unravel, some will question, and all will fight for their lives as the house fights back.
Scheda
Trailer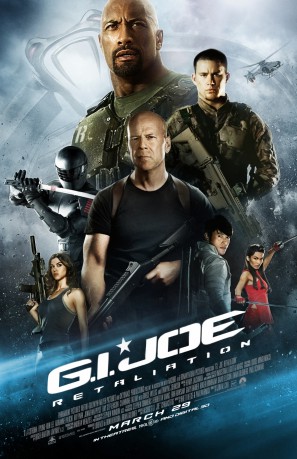 G.I. Joe: Retaliation
The Joes re-team to prevent Cobra from achieving total world domination in this sequel that picks up shortly after the events of G.I. Joe: The Rise of Cobra. The Nanomite threat has been neutralized, and the U.S. government has imprisoned Cobra Commander and Destro in an inescapable subterranean prison. When the leader of Pakistan is assassinated, the U.S. president (Jonathan Pryce) calls on the Joes to secure Pakistan's nuclear warheads before they fall into enemy hands. In the wake of successfully completing their mission, however, the Joes are decimated in a devastating surprise attack. When the smoke clears, Roadblock (Dwayne Johnson), Lady Jaye (Adrianne Palicki), and Flint (D.J. Cotrona) are the sole survivors. They're convinced that something is amiss in the White House, and as Lady Jaye theorizes that an impostor is pretending to be the commander in chief, bad guys Storm Shadow (Lee Byung-Hun) and Firefly (Ray Stevenson) team up to break Cobra Commander (Luke Bracey) out of ...
Scheda
Trailer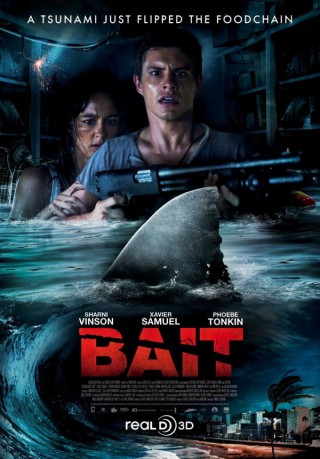 Bait
This movie is about a group of people who get trapped in a Supermarket after a Tsunami hits the coast of Queensland, Australia. But they soon find out that they have more to worry about than being in a flooded grocery store, there's 12 foot sharks swimming around them, and it's hungry.
Scheda
Trailer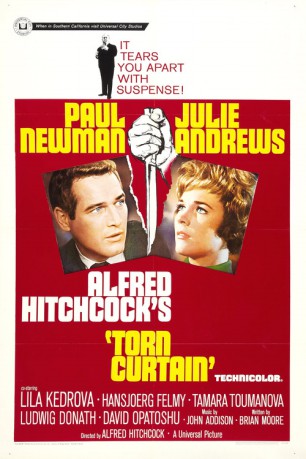 Torn Curtain
Professor Michael Armstrong is heading to Copenhagen, Denmark to attend a physics conference accompanied by his assistant and fiancée Sarah Sherman. Once arrived however, Michael informs her that he may be staying for awhile and she should return home. She follows him and realizes he's actually heading to East Germany, behind the Iron Curtain. She follows him there and is shocked when he announces that he's defecting to the East after the U.S. government cancelled his research project. In fact, Michael is there to obtain information from a renowned East German scientist. Once the information is obtained, he and Sarah now have to make their way back to the West.
Scheda
Trailer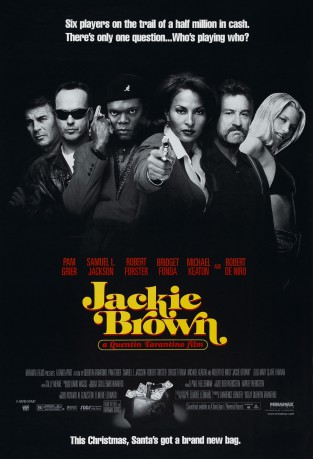 Jackie Brown
The middle-aged stewardess Jackie Brown smuggles money from Mexico to Los Angeles for the arms dealer Ordell Robbie. When she gets caught by the agents Ray Nicolet and Mark Dargus with ten thousand dollars and cocaine in her purse, they propose a deal to her to help them to arrest Ordell in exchange of her freedom. Meanwhile Ordell asks the 56-year-old Max Cherry, who runs a bail bond business, to release Jackie Brown with the intention of eliminating her. Jackie suspects of Ordell's intention and plots a complicated confidence game with Max to steal half a million dollars from Ordell.
Scheda
Trailer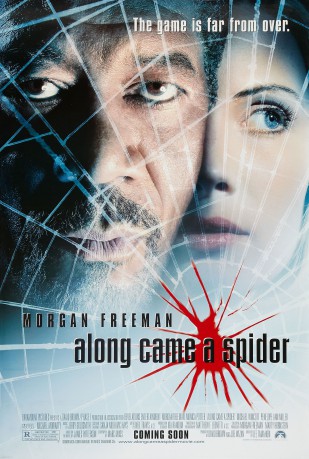 Along Came a Spider
Detective/psychologist Alex Cross loses his partner in an out of control 'bust.' He stops working and cannot forgive himself. He is drawn back to work reluctantly when a senator's daughter is kidnapped and the kidnapper seems to want to deal with Alex personally.
Scheda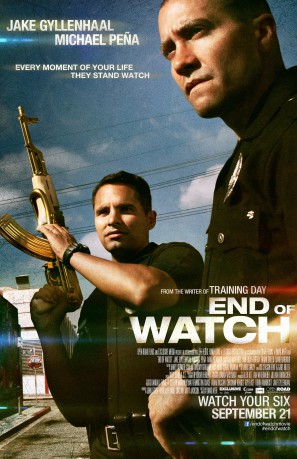 End of Watch
In South Central Los Angeles, street cops Brian and Mike are partners - balls-out cowboys patrolling the streets as Latino gangs are in a power struggle with Blacks. Brian and Mike get lucky a couple of times, making big drug and human-trafficking busts, so a Mexican cartel orders their deaths. We meet Mike's pregnant wife (whom he married out of high school) and watch Brian's search for a soul mate. There are internal squabbles within the ranks of the LAPD and lots of squad-car conversation. Can the lads escape the cartel's murderous reach?
Scheda
Trailer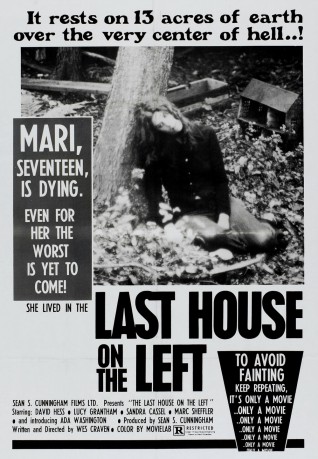 Bad Company
On the eve of her seventeenth birthday, Mari Collingwood tells her parents that she is going to the concert of underground band Bloodlust in New York with her friend Phyllis Stone. She borrows the family's car and heads with her friend to a dangerous neighborhood in the city. Meanwhile, the sadistic and cruel escapees Krug Stillo and Fred 'Weasel' Podowski are hidden in a hideout with their partners Sadie (Jeramie Rain) and Krug's addicted son Junior Stillo (Marc Sheffler) after killing two guards and one shepherd in their runaway. The two girls seek marijuana near the theater and meet Junior that offers some Colombian grass to them. They go to his apartment and are subdued by the criminals that rape Phyllis. On the next morning, they hide the girls in the trunk of their convertible and head to Canada. However, they have a problem with the car's rod and they stop on the road close to Mari's house. When Phyllis tries to escape, the gang stabs her to death and shots Mari after ...
Scheda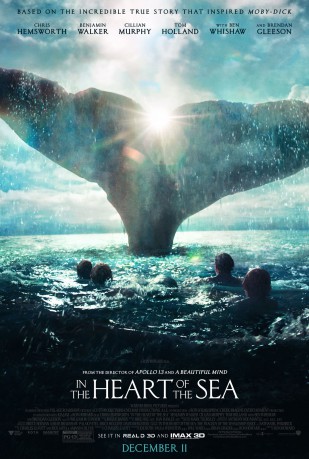 In the Heart of the Sea
In the winter of 1820, the New England whaling ship Essex was assaulted by something no one could believe: a whale of mammoth size and will, and an almost human sense of vengeance. The real-life maritime disaster would inspire Herman Melville's Moby-Dick. But that told only half the story. "In the Heart of the Sea" reveals the encounter's harrowing aftermath, as the ship's surviving crew is pushed to their limits and forced to do the unthinkable to stay alive. Braving storms, starvation, panic and despair, the men will call into question their deepest beliefs, from the value of their lives to the morality of their trade, as their captain searches for direction on the open sea and his first mate still seeks to bring the great whale down.
Scheda
Trailer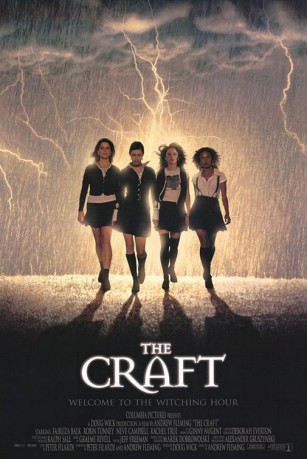 The Craft
A new girl moves to a new city with her family to start a new life. She meets up with the girls who are very interested in the occult and together, the four of them have a seemingly unstopable power. They can do anything, from getting thier dream guys to like them to... the possibilities are limitless.
Scheda
Trailer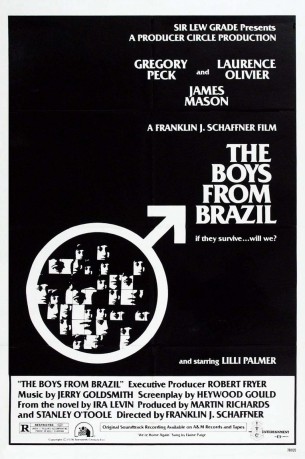 The Boys from Brazil
Barry Kohler, a young Nazi hunter, tracks down a group of former SS officers meeting in Paraguay in the late 1970s. The Nazis, led by Dr Mengele, are planning something. Old Nazi hunter, Ezra Lieberman, is at first uninterested in Kohler's findings. But when he is told something of their plan, he is eager to find out more. Lieberman visits several homes in Europe and the U.S. in order to uncover the Nazi plot. It is at one of these houses he notices something strange, which turns out to be a horrible discovery.
Scheda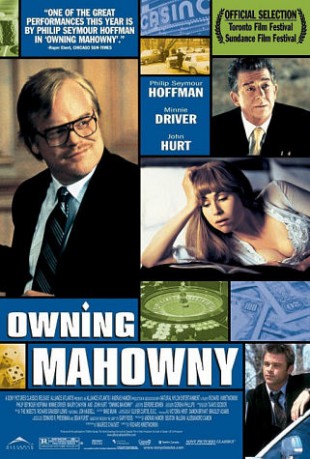 Owning Mahowny
Dan Mahowny was a rising star at the Canadian Imperial Bank of Commerce. At twenty-four he was assistant manager of a major branch in the heart of Toronto's financial district. To his colleagues he was a workaholic. To his customers, he was astute, decisive and helpful. To his friends, he was a quiet, but humorous man who enjoyed watching sports on television. To his girlfriend, he was shy but engaging. None of them knew the other side of Dan Mahowny--the side that executed the largest single-handed bank fraud in Canadian history, grossing over $10 million in eighteen months to feed his gambling obsession.
Scheda
Trailer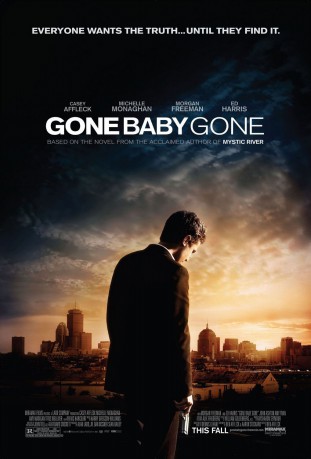 Gone, Baby, Gone
When 4 year old Amanda McCready disappears from her home and the police make little headway in solving the case, the girl's aunt Beatrice McCready hires two private detectives Patrick Kenzie and Angie Gennaro. The detectives freely admit that they have little experience with this type of case, but the family wants them for two reasons - they're not cops and they know the tough Boston neighborhood in which they all live. As the case progresses, Kenzie and Gennaro face drug dealers, gangs and pedophiles. When they are about to solve their case, they are faced with a moral dilemma that could tear them apart.
Scheda
Trailer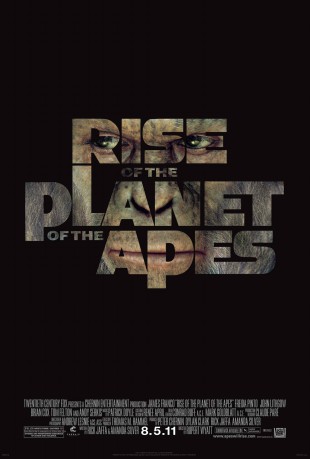 Rise of the Planet of the Apes
At the story's heart is Caesar (Andy Serkis), a chimpanzee who gains human-like intelligence and emotions from an experimental drug. Raised like a child by the drug's creator, Will Rodman (James Franco) and a primatologist Caroline Aranha (Freida Pinto), Caesar ultimately finds himself taken from the humans he loves and imprisoned in an ape sanctuary in San Bruno. Seeking justice for his fellow inmates, Caesar gives the fellow apes the same drug that he inherited. He then assembles a simian army and escapes the sanctuary - putting man and ape on a collision course that could change the planet forever.
Scheda
Trailer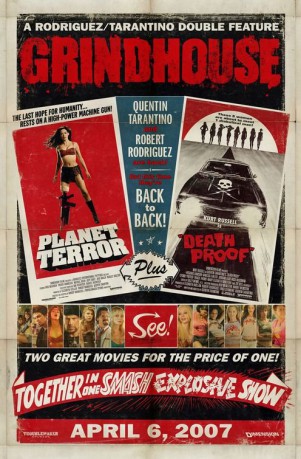 Grindhouse
A double-bill of thrillers that recall both filmmakers' favorite exploitation films. "Grindhouse" (a downtown movie theater in disrepair since its glory days as a movie palace known for "grinding out" non-stop double-bill programs of B-movies) is presented as one full-length feature comprised of two individual films helmed separately by each director. "Death Proof," is a rip-roaring slasher flick where the killer pursues his victims with a car rather than a knife, while "Planet Terror" shows us a view of the world in the midst of a zombie outbreak. The films are joined together by clever faux trailers that recall the '50s exploitation drive-in classics.
Scheda
Trailer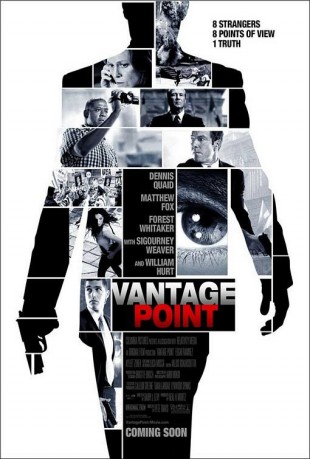 Vantage Point
The President of the United States is in Salamanca, Spain, about to address the city in a public square. We see a plain-clothes cop, his girlfriend with another man, a mother and child, an American tourist with a video camera, and a Secret Service agent newly returned from medical leave. Shots ring out and the President falls; a few minutes later, we hear a distant explosion, then a bomb goes off in the square. Those minutes are retold, several times, emphasizing different characters' actions. Gradually, we discover who's behind the plot. Is the Secret Service one step ahead, or have the President's adversaries thought of everything?
Scheda
Trailer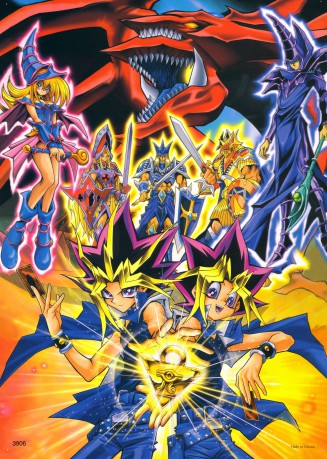 Yu-Gi-Oh! Duel Monsters - Stagione 1
A young boy named Yugi Muto defeats the world Champion, Seto Kaiba, in a duel with the help of the mysterious Millenium puzzle,the support of the friends and the heart of the cards. Yugi then becomes famous around the world. Yugi and his friend Joey participate in Duels to help save family members. All the way Yugi and the spirit within the puzzle try to understand each other more. Seto Kaiba tries to regain the title he once had. Many characters pop in and out, many are duelists and it makes for some interesting battles.
Scheda
Trailer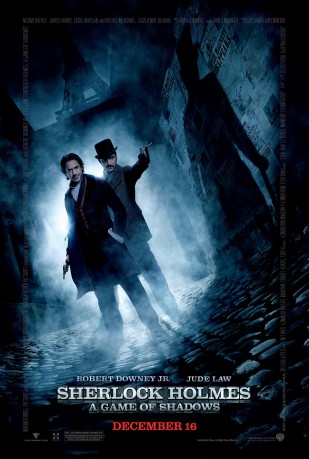 Sherlock Holmes: A Game of Shadows
Sherlock Holmes (Robert Downey Jr.) and his longtime trusted associate, Doctor Watson (Jude Law), take on their arch-nemesis, Professor Moriarty (Jared Harris), with the help of Holmes' older brother Mycroft Holmes (Stephen Fry) and a gypsy named Simza (Noomi Rapace).
Scheda
Trailer
Once Upon a Time in Mexico
In the third movie of Rodriguez's "Mariachi" trilogy, a Mexican drug lord pretends to overthrow the Mexican government, and is connected to a corrupt CIA agent who at that time, demands retribution from his worst enemy to carry out the drug lord's uprising against the government.
Scheda
Trailer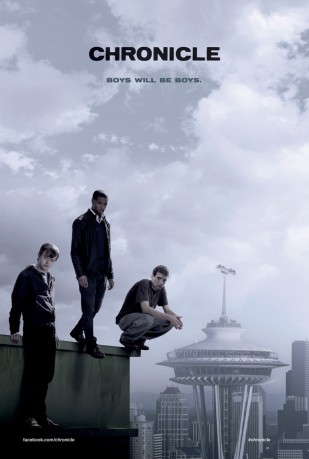 Chronicle
The shy, lonely and outcast teenager Andrew Detmer is bullied and has no friends at high-school and lives with his abusive and alcoholic father Richard Detmer and his terminally ill mother Karen. Andrew buys a camera to film his everyday life. His cousin Matt Garetty drives him to school and invites Andrew to go to a party at night. Nearby they find a tunnel and suddenly acquire telekinetic abilities and Andrew becomes the most powerful. But he easily loses his temper and becomes dangerous while Matt tries to control him. When his mother needs a medicine and Andrew does not have enough money to buy it, his darker side overwhelms him and he becomes a menace.
Scheda
Trailer