Pagina 8 di 9 Films: 400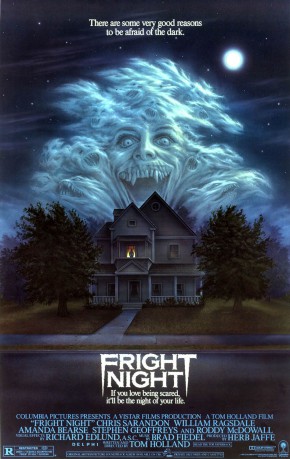 Fright Night
For young Charley Brewster, nothing could be better than an old horror movie late at night. Two men move in next door, and for Charley with his horror movie experience, there can be no doubt that their strange behavior is explained by the fact that they are a vampire and his undead day guardian. The only one who can help him hunt them down is a washed-up actor, Peter Vincent, who hosts Charley's favorite TV show, Fright Night. Vincent doesn't really believe that vampires exist, but does it for the money...
Scheda
Trailer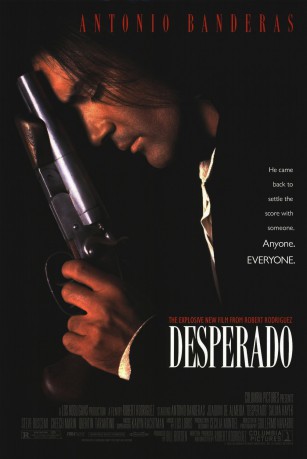 Desperado
Director Robert Rodriguez picks up where his successful independent debut El Mariachi left off with this slam-bang South of the Border action saga. Bucho (Joaquim DeAlmeida) is a wealthy but casually bloodthirsty drug kingpin who rules a seedy Mexican border town. Bucho and his men make the mistake of angering El Mariachi (Antonio Banderas), a former musician who now carries an arsenal in his guitar case. Bucho was responsible for the death of El Mariachi's girlfriend and put a bullet through his fretting hand, making him unable to play the guitar. Bent on revenge, the musician-turned-killing machine arrives in town to put Bucho out of business, though he finds few allies except for Carolina (Salma Hayek), who runs a bookstore that doesn't seem to attract many readers. Desperado features supporting performances from Cheech Marin as a cynical bartender, Steve Buscemi as the cantina patron who sets up the story, and Quentin Tarantino as a man with a really terrible joke to tell.
Scheda
Trailer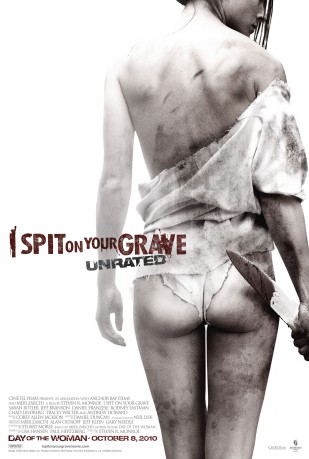 I Spit on Your Grave
Writer Jennifer Hills (Butler) takes a retreat from the city to a charming cabin in the woods to start on her next book. But Jennifer's presence in the small town attracts the attention of a few morally depraved locals who set out one night to teach this city girl a lesson. They break into her cabin to scare her. However, what starts out as terrifying acts of humiliation and intimidation, quickly and uncontrollably escalates into a night of physical abuse and torturous assault. But before they can kill her, Jennifer sacrifices her broken and beaten body to a raging river that washes her away. As time passes, the men slowly stop searching for her body and try to go back to life as usual. But that isn't about to happen. Against all odds, Jennifer Hills survived her ordeal. Now, with hell bent vengeance, Jennifer's sole purpose is to turn the tables on these animals and to inflict upon them every horrifying and torturous moment they carried out on her - only much, much worse.
Scheda
Trailer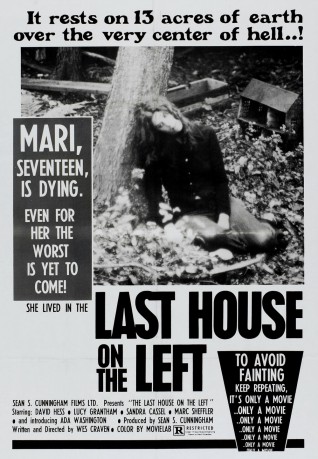 Bad Company
On the eve of her seventeenth birthday, Mari Collingwood tells her parents that she is going to the concert of underground band Bloodlust in New York with her friend Phyllis Stone. She borrows the family's car and heads with her friend to a dangerous neighborhood in the city. Meanwhile, the sadistic and cruel escapees Krug Stillo and Fred 'Weasel' Podowski are hidden in a hideout with their partners Sadie (Jeramie Rain) and Krug's addicted son Junior Stillo (Marc Sheffler) after killing two guards and one shepherd in their runaway. The two girls seek marijuana near the theater and meet Junior that offers some Colombian grass to them. They go to his apartment and are subdued by the criminals that rape Phyllis. On the next morning, they hide the girls in the trunk of their convertible and head to Canada. However, they have a problem with the car's rod and they stop on the road close to Mari's house. When Phyllis tries to escape, the gang stabs her to death and shots Mari after ...
Scheda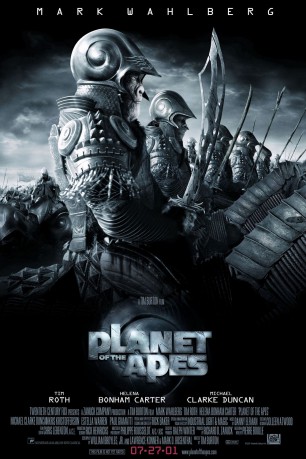 Planet of the Apes
It is the year 2029: Astronaut Leo Davidson boards a pod cruiser on a Space Station for a "routine" reconnaissance mission. But an abrupt detour through a space time wormhole lands him on a strange planet where talking apes rule over the human race. With the help of a sympathetic chimpanzee activist named Ari and a small band of human rebels, Leo leads the effort to evade the advancing Gorilla Army led by General Thade and his most trusted warrior Attar. Now the race is on to reach a sacred temple within the planet's Forbidden Zone to discover the shocking secrets of mankind's past - and the key to its future.
Scheda
Trailer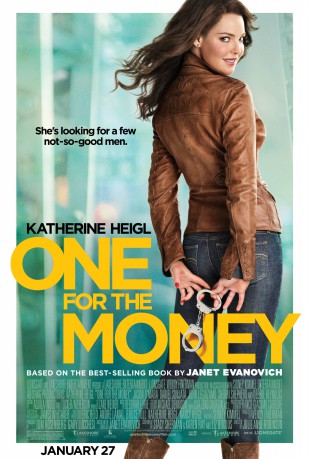 One for the Money
After losing her job, Jersey girl Stephanie Plum is broke. Needing a job she is told that her cousin, a bail bondsman, needs someone to help out in the office. But the only job openings he has are for skip tracers. She learns that Joe Morelli, a guy she knew intimately years ago, is one of the "skips". She eventually finds him but wasn't really prepared so he gets away. Another bounty hunter, Ranger, tries to teach her. Eventually she finds Morelli again, but he claims he is innocent of the crime he is accused of and he is trying to prove his innocence. Eventually Stephanie thinks he's telling the truth so she stakes out the person who can help him. She only finds herself in trouble and Morelli saves her. She tries to find someone who can prove his innocence, but the problem is that shortly after meeting with them they're killed or attacked.
Scheda
Trailer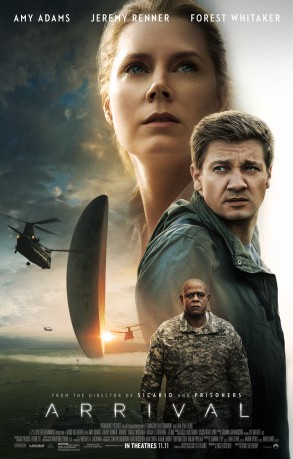 Contact
Linguistics professor Louise Banks leads an elite team of investigators when gigantic spaceships touchdown in 12 locations around the world. As nations teeter on the verge of global war, Banks and her crew must race against time to find a way to communicate with the extraterrestrial visitors. Hoping to unravel the mystery, she takes a chance that could threaten her life and quite possibly all of mankind.
Scheda
Trailer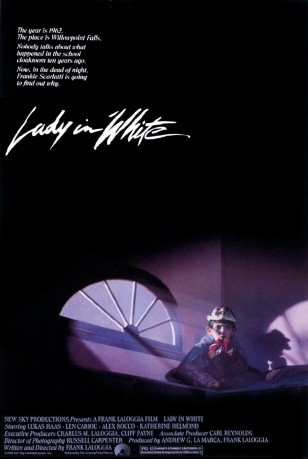 Lady in White
Locked in a school closet during Halloween 1962, young Frank witnesses the ghost of a young girl and the man who murdered her years ago. Shortly afterward he finds himself stalked by the killer and is soon drawn to an old house where a mysterious Lady In White lives. As he discovers the secret of the woman he soon finds that the killer may be someone close to him.
Scheda
Trailer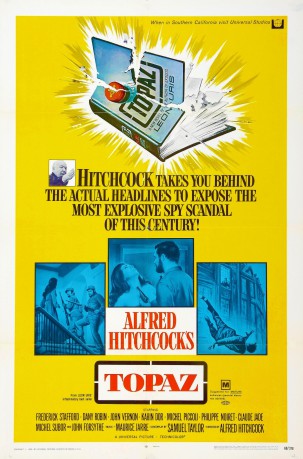 Topaz
A high ranking Russian official defects to the U.S., where he is interviewed by U.S. Agent Michael Nordstrom. The defector reveals that a French spy ring codenamed "Topaz" has been passing N.A.T.O. secrets to the Russians. Michael calls in his French friend and counterpart Andre Devereaux to expose the spies.
Scheda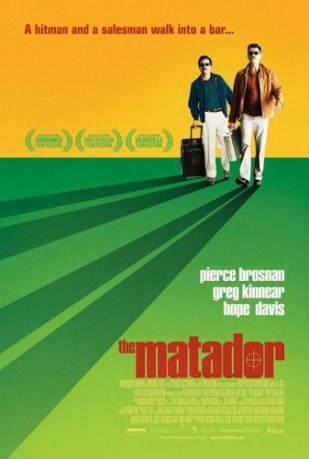 The Matador
A chance encounter between a travelling salesman and a lonely hitman triggers a strangely profound relationship which provokes each to act in ways neither would have imagined possible. Fate steps in to form a friendship between two men from irreconcilable worlds that will alter the lives of both forever.
Scheda
Trailer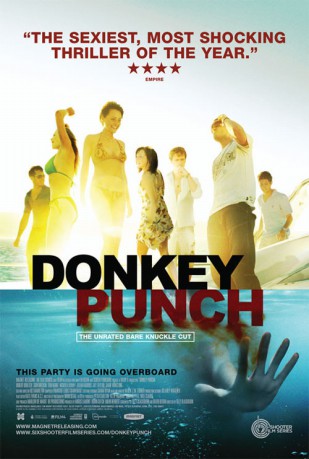 Donkey Punch
After meeting at a nightclub in a Mediterranean resort, seven young adults decide to continue partying aboard a luxury yacht in the middle of the ocean. But when one of them dies in a freak accident, the others argue about what to do, which leads to a ruthless fight for survival.
Scheda
Trailer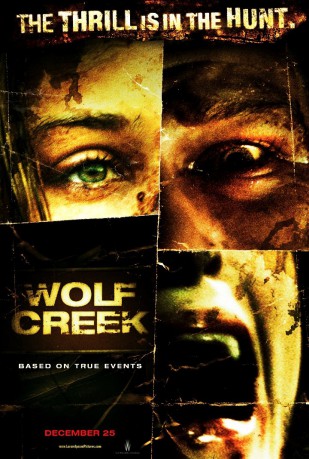 Wolf Creek
Three backpackers travel into the Australian Outback only to find themselves stranded at Wolf Creek crater. Once there, they are encountered by a bushman, Mick Taylor, who offers them a ride back to his place. Little do the three know that their adventure into the Outback would be a complete nightmare after the backpackers find a way to escape.
Scheda
Trailer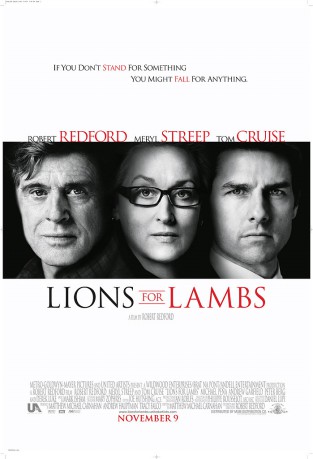 Lions for Lambs
Three stories told simultaneous in ninety minutes of real time: a Republican Senator who's a presidential hopeful gives an hour-long interview to a skeptical television reporter, detailing a strategy for victory in Afghanistan; two special forces ambushed on an Afghani ridge await rescue as Taliban forces close in; a poli-sci professor at a California college invites a promising student to re-engage. Decisions press upon the reporter, the student, and the soldiers.
Scheda
Trailer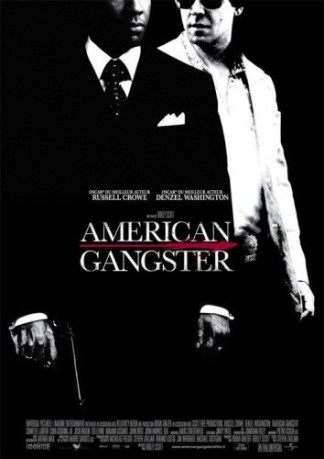 American Gangster
Following the death of his employer and mentor, Bumpy Johnson, Frank Lucas establishes himself as the number one importer of heroin in the Harlem district of Manhattan. He does so by buying heroin directly from the source in South East Asia and he comes up with a unique way of importing the drugs into the United States. As a result, his product is superior to what is currently available on the street and his prices are lower. His alliance with the New York Mafia ensures his position. It is also the story of a dedicated and honest policeman, Richie Roberts, who heads up a joint narcotics task force with the Federal government. Based on a true story.
Scheda
Trailer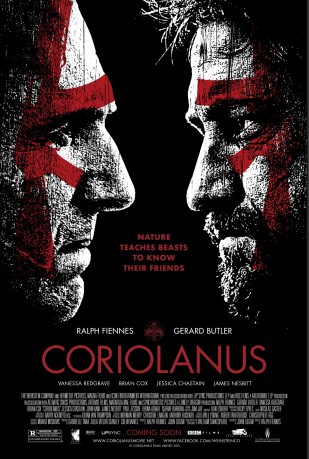 Coriolanus
The citizens of Rome are hungry. Coriolanus, the hero of Rome, a great soldier and a man of inflexible self-belief despises the people. His extreme views ignite a mass riot. Rome is bloody. Manipulated and out-maneuvered by politicians and even his own mother Volumnia, Coriolanus is banished from Rome. He offers his life or his services to his sworn enemy Tullus Aufidius.
Scheda
Trailer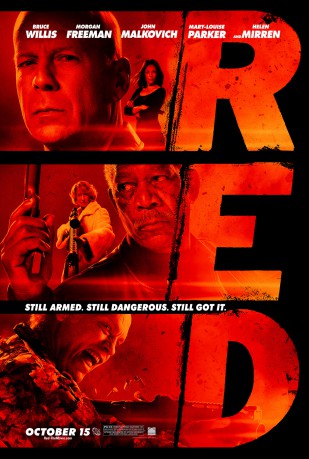 RED
Frank (Bruce Willis) is retired, bored, and lonely living off his government pension in a nondescript suburb in an equally nondescript house. The only joy in Frank's life is his calls to the government pension processing center when he gets to talk to his case worker, Sarah (Mary-Louis Parker). Sarah is as bored and lonely as Frank and marks her conversations with the unknown Frank and her spy novels as the only things fun in her life. When something in Frank's past forces Frank back into his old line of work and puts an unwitting Sarah in the middle of the intrigue, Frank and Sarah begin a journey into Frank's past and the people he used to work with. Like Frank they are all RED ... Retired Extremely Dangerous.
Scheda
Trailer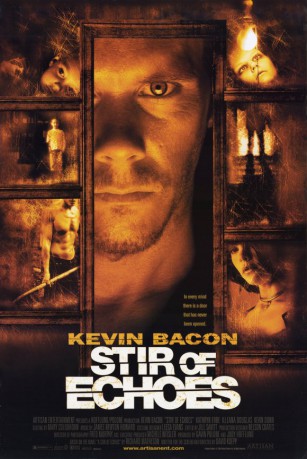 Stir of Echoes
A man is hypnotized at a party by his sister-in law. He soon has visions and dreams of a ghost of a girl. Trying to avoid this, nearly pushes him to brink of insanity as the ghost wants something from him - to find out how she died. The only way he can get his life back is finding out the truth behind her death. The more he digs, the more he lets her in, the shocking truth behind her death puts his whole family in danger.
Scheda
Trailer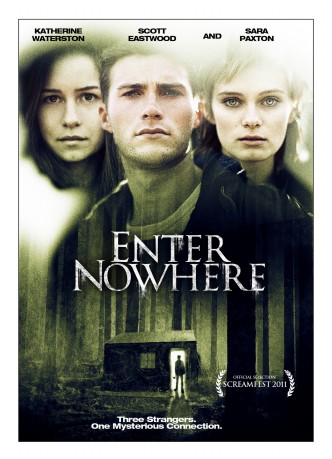 Enter Nowhere
Three strangers arrive one by one to a mysterious cabin in the middle of nowhere after enduring separate life-altering predicaments. Searching for a way out of the woods, frustrated, hungry and battling to stay warm they discover their mysterious connection and realize what they have to do in order to get out of the woods alive.
Scheda
The International
In The International, Interpol Agent Louis Salinger and Manhattan Assistant District Attorney Eleanor Whitman are determined to bring to justice one of the world's most powerful banks. Uncovering illegal activities including money laundering, arms trading, and the destabilization of governments, Salinger and Whitman's investigation takes them from Berlin to Milan to New York and to Istanbul. Finding themselves in a high-stakes chase across the globe, their relentless tenacity puts their own lives at risk as the bank will stop at nothing - even murder - to continue financing terror and war.
Scheda
Trailer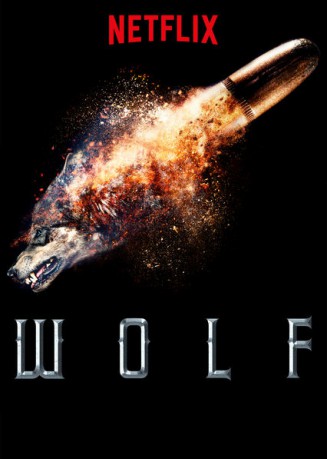 Wolf - Stagione 1
Turkey in the spring of 2014. A time when the enemies are growing on the border, the circle of danger inside is becoming narrower. The Republic of Turkey faces the greatest threats of recent history. BÖRÜ tells the story of heroic heroes who are touched by love. They are the last castle.
Scheda
Trailer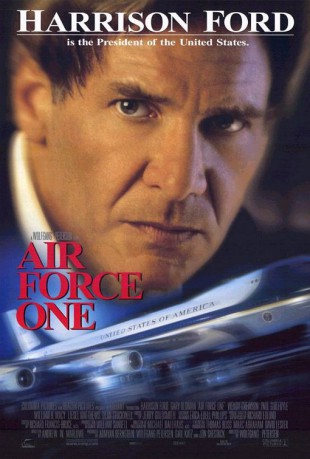 Air Force One
The President of the USA goes to Moscow and gives a stirring speech outlining the USA's new "Zero-tolerance" policy with respect to terrorism. On the flight home, terrorists take over Air Force One (the President's official plane) and take the passengers (including his wife and daughter) hostage. The terrorists plan to execute one hostage every half-hour unless/until their demands are met. However, the President is a former Medal of Honor winner, so the terrorists may be in for a surprise...
Scheda
Trailer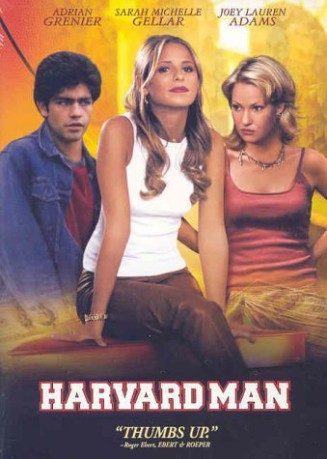 Harvard Man
College has always been a time for experimentation, sexual, cultural and otherwise. "Harvard Man" plays out against a background of love, sex, basketball, crime and experimentation. Action and philosophy in young people's quest to discover their true identity.
Scheda
Dark Water
Dahlia Williams and her daughter Cecelia move into a rundown apartment on New York's Roosevelt Island. She is currently in the midst of divorce proceedings and the apartment, though near an excellent school for her daughter, is all she can afford. From the time she arrives, there are mysterious occurrences and there is a constant drip from the ceiling in the only bedroom. There are also noises coming from the apartment directly above hers, though it would appear to be vacant. Is the apartment haunted or is there a simpler explanation?
Scheda
Trailer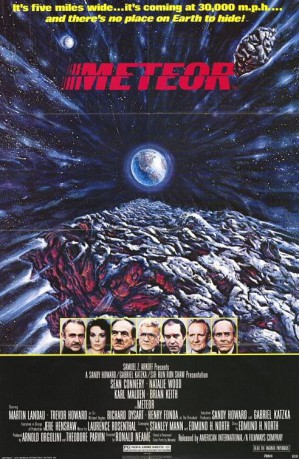 Meteor
After a collision with a comet, a nearly 8km wide piece of the asteroid "Orpheus" is heading toward Earth. If it hits, it will cause an incredible catastrophe which will probably extinguish mankind. To stop the meteor, NASA wants to use the illegal nuclear weapon satellite "Hercules," but soon discovers that it doesn't have enough firepower. Their only chance to save the world is to join forces with the USSR, which has also launched such an illegal satellite. But will both governments agree?
Scheda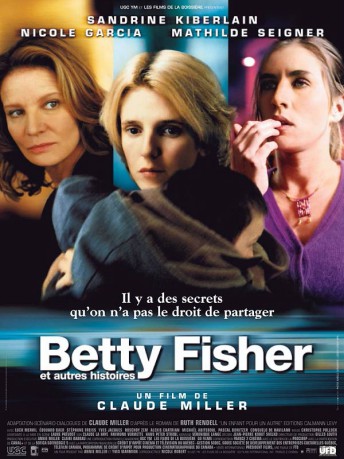 Alias Betty
Grieving after the death of her young son Joseph, novelist Betty Fisher enters a dark depression. Hoping to bring her out of it, her mother Margot arranges to kidnap another child, Jose, to replace the son Betty lost. Although she knows it's wrong, Betty accepts Jose as her new son. Meanwhile, Jose's mother Carole is looking for her son with the help of her boyfriend Francois and some of his criminal cohorts.
Scheda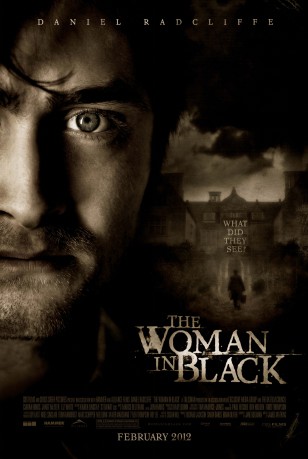 The Woman in Black
In London, solicitor Arthur Kipps still grieves over the death of his beloved wife Stella on the delivery of their son Joseph four years before. His employer gives him a last chance to keep his job, and he is assigned to travel to the remote village of Crythin Gifford to examine the documentation of the Eel Marsh House that belonged to the recently deceased Mrs. Drablow. Arthur befriends Daily on the train and the man offers a ride to him to the Gifford Arms inn. Arthur has a cold reception and the owner of the inn tells that he did not receive the request of reservation and there is no available room. The next morning, Arthur meets solicitor Jerome who advises him to return to London. However, Arthur goes to the isolated manor and soon he finds that Eel Marsh House is haunted by the vengeful ghost of a woman dressed in black. He also learns that the woman lost her son, drowned in the marsh, and she seeks revenge, taking the children of the terrified locals.
Scheda
Trailer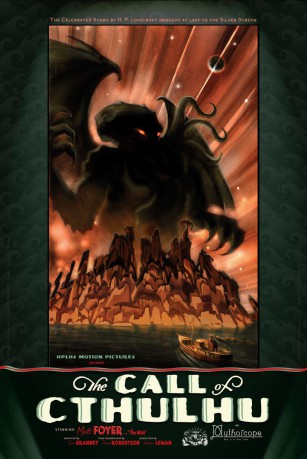 The Call of Cthulhu
A faithful rendition of H.P. Lovecraft's short story, presented in the style of a silent film from the 1920s. While organizing the affairs of his late Uncle, a man accidentally stumbles across a series of clues toward an ancient horror lurking beneath the sea, waiting for the time when the "Stars are Right" and it shall be free to wreck havoc upon mankind. In his investigation he learns of an artist influenced by strange dreams, a police officer discovering an ancient cult worshiping "Great Cthulhu" and ultimately a tale of sailors encountering sanity-shattering horror as they discover Cthulhu himself.
Scheda
Trailer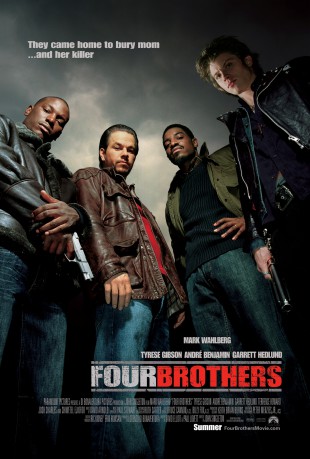 Four Brothers
Four adopted brothers come to avenge their mother's death in what appears to be a random killing in a grocery store robbery. However, the boys' investigation of the death reveals more nefarious activities involving the one brother's business dealings with a notorious local hoodlum. Two cops who are trying to solve the case may also not be what they seem.
Scheda
Trailer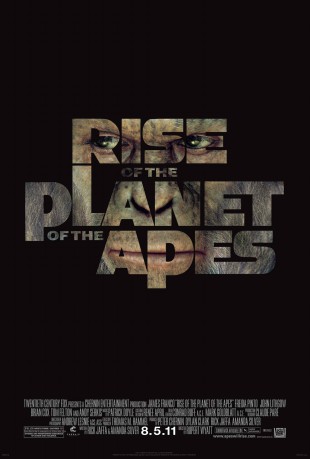 Rise of the Planet of the Apes
At the story's heart is Caesar (Andy Serkis), a chimpanzee who gains human-like intelligence and emotions from an experimental drug. Raised like a child by the drug's creator, Will Rodman (James Franco) and a primatologist Caroline Aranha (Freida Pinto), Caesar ultimately finds himself taken from the humans he loves and imprisoned in an ape sanctuary in San Bruno. Seeking justice for his fellow inmates, Caesar gives the fellow apes the same drug that he inherited. He then assembles a simian army and escapes the sanctuary - putting man and ape on a collision course that could change the planet forever.
Scheda
Trailer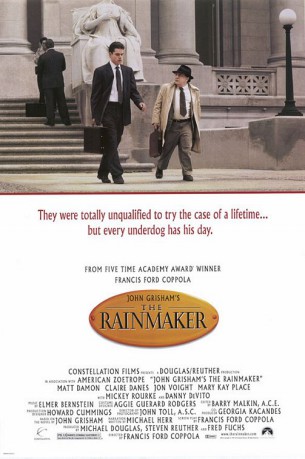 The Rainmaker
Rudy Baylor is a young attorney out to make a difference in the justice system. He is also the only hope of an elderly couple after their corrupt insurance company refuses to payout a claim that could save their child's life. In this judicial drama, Baylor rails against corporate lawyers, corrupt judges, and abusive husbands, all with the help of a fellow lawyer who hasn't even passed his bar exam. He is facing long odds in the courtroom - and this is only his first case.
Scheda
Trailer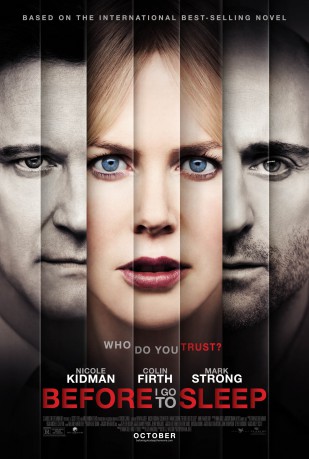 Before I Go to Sleep
Forty seven year old Christine Lucas wakes up in bed with a man she does not know, in an unfamiliar house. The man explains that he is her husband, Ben, and that she suffered brain damage from a car accident ten years earlier. Christine wakes up every morning with no memory of her life from her early twenties onwards. Christine receives treatment from Dr. Nasch, a neurologist at a local hospital who provides her a camera to record her thoughts and progress each day, and calls her every morning to remind her to watch the video in the camera. Soon, she starts to discover the truth around her.
Scheda
Trailer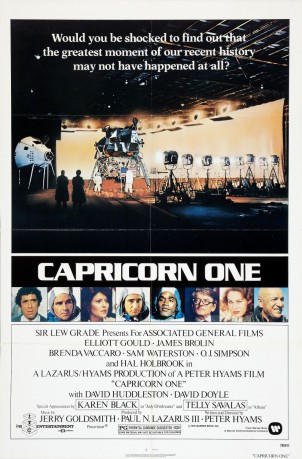 Capricorn One
Charles Brubaker is the astronaut leading NASA's first manned mission to Mars. Seconds before the launch, the entire team is pulled from the capsule and the rocket leaves earth unmanned much to Brubaker's anger. The head of the programme explains that the life support system was faulty and that NASA can't afford the publicity of a scratched mission. The plan is to fake the Mars landing and keep the astronauts at a remote base until the mission is over, but then investigative journalist Robert Caulfield starts to suspect something.
Scheda
Trailer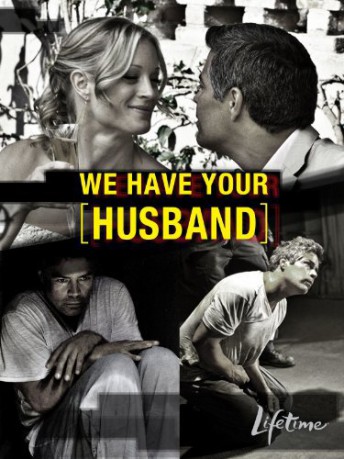 We Have Your Husband
American-born Jayne, her husband Eduardo the son of a legendary Mexican newspaper publisher, and their two children live an idyllic life on their 1,000 acre ranch outside of a peaceful Mexico town. But in the summer of 2007, their peaceful life is turned into a real-life nightmare when Eduardo is ambushed and kidnapped by strangers.
Scheda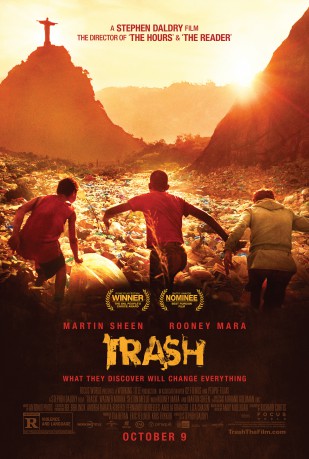 Trash
When two trash-picking boys from Rio's slums find a wallet in amongst the daily detritus of their local dump, little do they imagine that their lives are about to change forever. But when the local police show up, offering a handsome reward for the wallet's return, the boys, Rafael and Gardo, realize that what they've found must be important.
Scheda
Trailer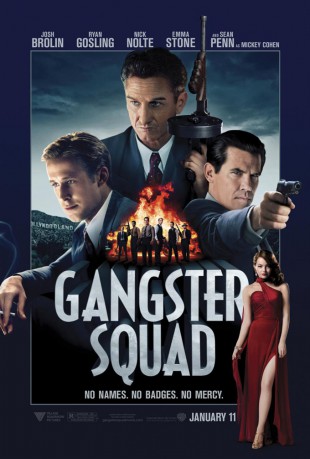 Gangster Squad
It's 1949 Los Angeles, and gangster Mickey Cohen has moved in, with the intention of controlling all criminal activity in the city. He has bought local judges and police, and no one is willing to cross him or testify against him. Everyone except Sergeant John O'Mara, a former World War II soldier, whose goal is to settle with his family in a peaceful Los Angeles. Police Chief William Parker decides to form a special unit whose mission is to take down Cohen, and chooses O'Mara to lead the unit. O'Mara chooses 4 cops and asks another cop and vet, Jerry Wooters to join him but Wooters is not interested. But when he witnesses the murder of a young boy by Cohen's people, he joins them, and they decide to take apart Cohen's organization. Cohen wonders if a rival is going after him, but eventually he realizes it's the cops.
Scheda
Trailer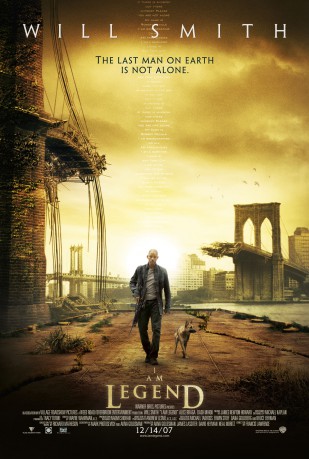 I Am Legend
Robert Neville is a scientist who was unable to stop the spread of the terrible virus that was incurable and man-made. Immune, Neville is now the last human survivor in what is left of New York City and perhaps the world. For three years, Neville has faithfully sent out daily radio messages, desperate to find any other survivors who might be out there. But he is not alone. Mutant victims of the plague -- The Infected -- lurk in the shadows... watching Neville's every move... waiting for him to make a fatal mistake. Perhaps mankind's last, best hope, Neville is driven by only one remaining mission: to find a way to reverse the effects of the virus using his own immune blood. But he knows he is outnumbered... and quickly running out of time.
Scheda
Trailer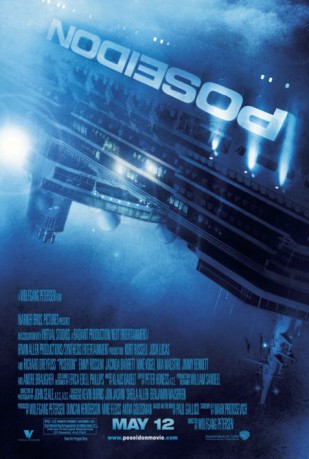 Poseidon
It is New Year's Eve, and over 2,000 passengers & crew are ringing in the New Year aboard the huge cruise ship 'Poseidon' when it capsizes on the open sea in the middle of the North Atlantic Ocean! A small group of survivors find themselves unlikely allies in a battle for their lives. Preferring to test the odds alone, career gambler Dylan Johns ignores captain's orders to wait below for possible rescue and sets out to find his own way to safety. What begins as a solo mission soon draws others, as Dylan is followed by a desperate father searching for his daughter and her fiancée--a young couple who hours before couldn't summon the courage to tell him they were engaged and now face much graver challenges. Along the way they are joined by a single mother and her wise-beyond-his-years son, an anxious stowaway and a despondent fellow passenger who boarded the ship not sure he wanted to live but now knows he doesn't want to die. Determined to fight their way to the surface, the group sets ...
Scheda
Trailer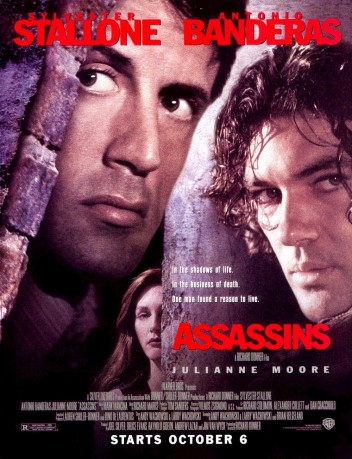 Assassins
Robert Rath is a seasoned hitman who just wants out of the business with no back talk. But, as things go, it ain't so easy. A younger, peppier assassin named Bain is having a field day trying to kill said older assassin. Rath teams up with a computer hacker named Electra to defeat the obsessed Bain.
Scheda
Trailer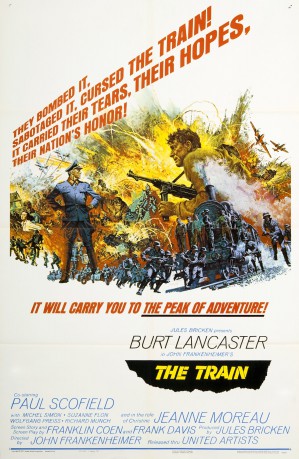 The Train
As the Allied forces approach Paris in August 1944, German Colonel Von Waldheim is desperate to take all of France's greatest paintings to Germany. He manages to secure a train to transport the valuable art works even as the chaos of retreat descends upon them. The French resistance however wants to stop them from stealing their national treasures but have received orders from London that they are not to be destroyed. The station master, Labiche, is tasked with scheduling the train and making it all happen smoothly but he is also part of a dwindling group of resistance fighters tasked with preventing the theft. He and others stage an elaborate ruse to keep the train from ever leaving French territory.
Scheda